The Reynolds Auction Co. was founded in 1984 by John T. Reynolds. Mr. Reynolds, a graduate of the Ohio State University System with a business degree in Marketing and Finance is also a Certified Auctioneer and a New York State licensed real estate Broker.
In 1985 the business conducted three auctions, all in Wayne County. Thankfully the business grew and during Reynolds ownership tenure the company conducted more than 3,000 auctions and private sales of personal property, trade fixtures and real estate. Although certified or licensed in several states, the business activities were concentrated in Central and Western New York State.
After working together for several years, and deciding to retire, the business was sold to David A. Koeberle in 2008. David, an excellent successor, exhibits impeccable values and an outstanding work ethic. There is no doubt that the Reynolds Auction Co. motto, "Representation With Integrity" is well represented and the business will continue and thrive for many more years!
David A. Koeberle, President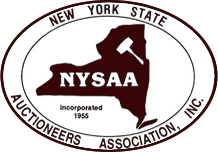 David A. Koeberle, President of the Reynolds Auction Co., is a licensed professional auctioneer with more than twenty years of business and sales experience. Koeberle is a graduate of the renowned Missouri Auction School and of the State University of New York at Cobleskill with a degree in Landscape Development; a specialist and expert in the horticulture industry. To complement this strength, David has a lifetime of experience dealing with large equipment/machinery and agribusiness. Additionally, he is a New York State real estate broker. He is an active member of the NYS Auctioneer Association and the National Auctioneers Association.
AUCTION ASSOCIATES
The Reynolds Auction Co. staff includes auctioneers, clerks, cashiers, set-up personnel, ring persons and sales associates. All of our team members are dedicated and trained professionals representing more than 200 cumulative years of knowledge and experience. In addition to their marketing specialty areas, each member is cross-trained, providing for a well organized and cooperative sales effort.