Reynolds Auction Company offers significant experience auctioning estate contents, real estate auctions, business inventory and commercial asset auctions. All of our team members are dedicated and trained professionals representing more than 200 cumulative years of knowledge and experience in the auction industry. Our staff includes auctioneers, clerks, cashiers, set-up personnel, ring persons and sales associates.
Our clients include individuals, businesses, estates, banks, attorneys, CPA's, local municipalities, Federal and New York State agencies, the court system and recognized charities. We maintain substantial fidelity bonding, $2,000,000 insured liability protection and can provide impeccable business and personal references.
Reynolds Auction Company is a proud member of the New York State Auctioneers Association and the National Auctioneers Association.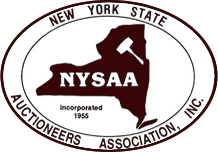 Saleable assets for auction typically include:
Estate contents
Antiques & Collectibles
Retail store fixtures
Inventory
Restaurant Equipment
Construction/Farm Equipment
Fleet & Repossessed Vehicles
Industrial machinery
Machine tools
Intangible assets
Land
Municipal Tax Foreclosures
Commercial real estate
Residential or multi-family real estate
Industrial plants and capital assets
Whether the asset value is large or small, the need for expert service remains the same. Based on the character of the assets and the scope of the marketplace, our promotional efforts can be local, regional or national. We will develop a cost effective marketing plan and organized sales effort, specifically designed to meet the unique needs of the assets to be sold.