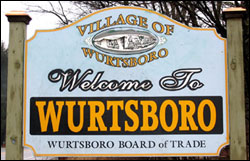 QUICK INFORMATION . . .
Land size: 25.02 acres
Zoning:
light industrial/office
Tax Map #:
484089 26.-1-32.2
Assessment: $231,500.00
Distance to Route 17
(a/k/a I-86): 2.8 miles
Sullivan County, Town of Mamakating, Village of Wurtsboro - near but far away, in the heart of the bountiful and beautiful Catskill Mountains! Recreational activities abound during all four seasons . . . swimming, fishing, boating, water skiing, world class golf, unique shopping, trail walking and hiking, snow skiing and snow boarding, fall foliage, arts, culture and more. Live a slower pace, close to nature and quiet beauty, but near and easily accessible to one of the worlds most vibrant economies and center of universal trade . . . New York City. Make your home and business location far away, but near the heart and pulse of regional, national and international commerce.
OFFERED AT PUBLIC AUCTION is this 25.02 acre parcel of land that is zoned light industrial/office. It is presently known as Lo's Farms, Inc. but was formerly and may be locally known as "Molly & Me Farms." There are several structures on this land. Closest to the highway is a two story wood frame home. There are also two concrete block buildings that are approximately 45' wide and in excess of 200' in length. There are other small wood frame buildings on the property that are in dilapidated condition. There is concern for the interior condition of the wood frame home but the two concrete block buildings may offer immediate potential. Utilities include public electric, with private water and septic. The complete tax map ID # 484089 26.-1-32.2. This property is currently (modestly) assessed for $231,500.00
Real property taxes that were due and payable on January 31, 2006 were $ 12,712.18. This amount includes the 2006 Town and County tax bill and the 2005 unpaid school tax. The amount due, if paid by April 30, 2006, including interest and penalties is $13,750.40. This bill is now payable to the Sullivan County Treasurer 845.794.3000; ext. 3242.
OFFERED AT PUBLIC AUCTION
However . . . the real and obvious potential for this property is its location. The land (25.02 ACRES) is 2.8 miles north of State Highway Route 17 a/k/a Interstate 86, at exit 113. This allows very easy access to New York City, approximately 75 miles away, and various other routes serving the vast northeastern megalopolis! It enjoys almost 400' of road frontage allowing for excellent visibility in either direction.
The favorable zoning, "LIO" or Light Industrial/Office, of this property and the immediate area is conducive to commercial development. The Town of Mamakating defines Light Industrial/Office to include . . . agricultural operations, airport, aviation sales and repair, light industrial uses, distribution facilities, office and research; wholesale, storage and warehouse; research, experimental and laboratory testing; lumber, building and farm supply yards; restaurants (including drive-through), and conference center. Note that there are similar businesses located within this light industrial zone, most notably a Kohls Distribution/warehouse center. Other uses that may apply, with special planning board approval include resort(country inn), composting, recycling and recovery, agribusiness, trucking terminals, motor vehicle and equipment repair, franchise automobile sales, extractive operations, WTS facility and public utilities. Regulations stipulate that this property cannot be subdivided.
Preview auction day at 9:00 AM
Immediately review Terms of Sale, inspect the Tax Map, view the Photo Gallery and get area information with the Location Maps; just "click" on the above or below underlined category. Auction authorized by Secured Creditor.