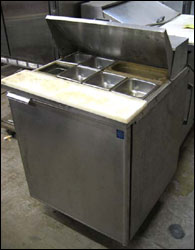 REFRIGERATION: Frigidaire and other ice machines, ice flaking dispenser, three upright freezers, one refrigerator, True and other flat top coolers, Beverage Air counter top two door cooler, Delfield and Star Metal sandwich units, self contained, 27" width, cantilever top to prep surface, over one door, mobile; Beverage Air two door display freezer, self contained; Hobart, Foster and other single door reach in coolers, four door (2 over 2) refrigerator/freezer, self contained, mobile; single keg cooler with tap head, three door back bar cooler, self contained; fountain style back bar condiment dispenser and dipping cabinet, Hussman five door merchandise cooler, several single and multi-door display coolers, deli cases, Frigidaire two hole dipping cabinet, self contained; Delfield pie and pastry counter top display, bulk milk coolers, more!
KITCHEN EQUIPMENT: Vulcan and Blodgett gas convection ovens, Garland 10 burner double oven gas range, Magic Chef gas stove, Franklin Chief four burner range with under shelf, Imperial wall mount drawer type broiler, 2 Vulcan griddle, 24" by 48" cooking surface with front debris collection; 2 high production and other gas griddles, American five hole water bath steam table, Globe and other automatic and manual food slicers, FryMaster high production floor mount deep fryer, mobile; multiple basket high production deep fryer, Star counter top gas fryer, model 215 30,000 BTU natural gas, with electric temperature control; Anvil counter top double bay deep fryer, Fry King pressure fryers, Belshaw Doughnut Robot 42, automatic, doughnut fryer, counter top and floor mount doughnut fryers, US Berkel counter top grinder; Biro high production food grinder, Biro model 22 meat cutting band saw, Reynolds 60 quart food mixers, 220 volt with bowl and accessories; small counter top mixer with complete set of attachments; Hatco conveyor toasters, several Toastmaster four slice pop-up toasters, Star roller grills and hot dog steamers, Pizzazzip counter top pizza ovens, Bakerís Pride pizza ovens, Hot Point food warmers, mobile salad bar unit, self contained, prep tables, appliance stands, hot wrap/meat wrap machines, Epco and other proofing cabinets, floor mount and counter top pop corn machines, several coffee machines, lg qt glass coffee pots, Phoenix single head espresso machine, low temp single tray corner pass thru dish machine, drinking fountains, lg qt compressors, condensers and other refrigeration parts, compressor housings, cash registers, more!
Rattle-Ware, Smalls, Misc.: pots, pans, kettles, saute pans, sheet trays, colanders, mixing bowls, composition inserts, nice variety of ss steam table inserts, portion scales, vegetable slicers, ladles, tongs, whips, graduated measurers, portion scoops, storage containers, tongs, slotted and whole steam table stainless steel spoons, portion ladles, whips, Edlund can openers, stainless steel flatware, cutting boards, plastic table and glassware, dunnage rack, refuse containers, fatigue matts, mop buckets, fire extinguisher, more!
ALSO SELLING: Blue Giant two stage walk behind pallet jack fork lift with battery charger, 1983 Honda Aero 80 scooter, 699 miles; Craftsman table saw, floor maintenance machines, Maytag ringer washer machine, several industrial fans, appliance dollies, mobile carts, more!
NOTE: Without a doubt this is a LARGE auction with every imaginable sort of restaurant and hospitality equipment that you could want! Bernie was well known for sales of restaurant equipment. Make your BEST purchases now!
REMOVAL: at the conclusion of the auction.
PREVIEW auction day at 9:00 AM or immediately in the photo gallery and get driving directions with our location maps.
TERMS: 10% Buyers Premium; payment with cash, New York State drawn check, VISA/MC. Auction authorized by the estate representatives.