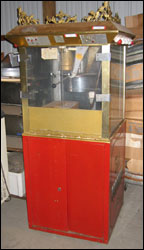 REFRIGERATION & Product Display Cabinets: Large Quantity restaurant commercial appliance parts, Large Quantity retail refrigeration parts, Large Quantity refrigeration compressors, Taylor ice cream/milkshake machine, Dole four head post mix beverage dispenser, refrigerated back bar displays, Prince Castle carousel product display, four door display freezer, deli style cooler, Raetone three door self contained display cooler, several Norris bulk milk coolers, several multi-hole dipping cabinets, two Traulsen rotating self contained display coolers, antique-style floor mount kettle type popcorn maker, cold table and sandwich units, more!
KITCHEN EQUIPMENT: South Bend convection oven, 2 Vulcan griddle tops with lower finish oven, Vulcan hot top with lower finish oven, Grone steam jacketed kettles, Globe automatic and manual food slicers, Henney Penny breading machine, counter top deep fryers, Pizza Zip counter top pizza oven, commercial microwave ovens, display rotisserie, several Cres-cor and other multi-deck mobile units, 2 single tray straight-thru dish machines, Toastmaster two door warmer, ss work/prep tables, more!
Rattle-Ware, Smalls, Misc.: several Savory conveyer toasters, nice variety and quantity of steam table inserts, pop-up toasters, Toastwell and other waffle bakers, service trays and tray stands, deep fry baskets, pizza trays, food mixer accessories, counter top hot food dispensers, table top accessories, variety of china, folding and stack chairs, heat seal units, graduated pitchers, table tops, pots, pans, coffee machines, coffee urns, coffee pots, gum ball machine, sheet tray racks, stainless steel wall shelving, more!
ALSO SELLING: fire suppression control systems, fire extinguishers, industrial grade compressor, electric wheel chairs, blower fans, large Quantity of electric motors, dolly wheels, industrial fans, file cabinets, Large Quantity of floor machine brushes, kerosene heaters, whirlpool bath, limited household appliances, Large Quantity of SCRAP metal, stainless steel, copper, more!
NOTE: This is a continuation of the November auction. It will have a lot of volume with every imaginable sort of restaurant and hospitality equipment that you could want! We will be selling to the bare walls!
REMOVAL: at the conclusion of the auction.
PREVIEW auction day at 9:00 AM or immediately in the photo gallery and get driving directions with our location maps.
TERMS: 10% Buyers Premium; payment with cash, New York State drawn check, VISA/MC. Auction authorized by the estate representatives.