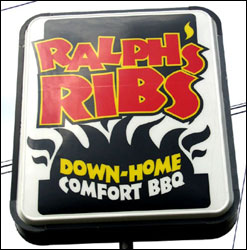 FEATURING: smoker, locomotive shape with double front chamber, three rear door access with two duel holding chambers over fire pit, front has two counter balanced doors each with cooking chamber over fire pit, entire mobile unit on double axle frame with brake lights and break away safety brake. Cord hard wood.


Dining Room
show case, oak and other hardwood construction, full vision front, rear, top and sides, rear sliding door access, single stationary interior shelf, approximate 6' length, some finish fading;

23 tables, hardwood butcher block top on three point pedestal base, approximate 29½" by 24", some finish distress;

3 booth sections, four passenger, black vinyl seat and back, with hardwood coat rack attached, tables measure approximate 41½" length, wood grain Formica top on single pedestal base, booth such substantial wear;

45 guest chairs, The Jiang Kangyi Furniture Co. (mfg.), oriental motif, straight back, center splay decorated chairs, with blue/green vinyl upholstered slip seat, each chair corner joints, metal re-enforced corner joints;

corner booth section, with kitchen type table, black vinyl upholstered right angled seating section and 3 over painted and black vinyl barrel back hardwood chairs;

remaining Dining Room includes Hoover upright vacuum cleaner, 2 hardwood youth chairs, table top accessories, booster chair, window valances, floor lamp, two contemporary two person benches;
Front Production/Customer Area
Sunkist juice extractor, counter top, serial number 8-51451, 110 volt operation;
Casio cash register, model CE-T100, electronic, multi-departmental with receipt and customer read, single drawer;
Crathco beverage machine, double tank, refrigerated pre mix juice beverage dispenser with tank spray capacity, 110 volt operation, condition is poor;
Ewave microwave oven;
Delfield reach-in cooler, under counter model with stainless steel prep top, self contained;
Eagle steam table, model DHT3-120, serial number 0309100042, three hole water bath, 110 volt operation, stainless steel exterior and under-shelf, front hard wood assembly shelf, approximate 48" length;
Star open broiler, model Star-Max, three burners, approximate 36" by 20" cantilever cooking surface with front collection tray;
Eagle prep table, stainless steel top with two galvanized adjustable height under-shelves, approximate 48" length;
Sunfire cooking range, ten burners, over two finish ovens, gas operation, with constant gas pilot;
Dean deep fryer, double basket, model SR42GNS, serial number 0308MA0163, gas operation;
Delfield hot/cold food unit, custom manufactured piece, left side has water bath steam table approximate measure 54" by 25" configurable, electrically controlled, right side has ice jockey, approximate measure 33 ½" by 31", over single door reach-in cooler, self contained, entire unit covered by stepped up shelf/bridge with Merco heat lamp and order rails;
Captiveaire exhaust system, six baffle filters with drip pan collection, overall length approximate 127", inclusive of stainless steel sheeting on back and side walls, under-lit; with six head Pyro (mfg.), model PCL-3000, fire suppression system;
Back Production Area
15 sections Metro and metro-style shelving, various sizes, lengths, widths, some chrome plated, most black over painted;

Manitowoc ice machine, mini-cube;

Alto-Shaam food holding cabinet, four doors (two doors over two doors), exterior digital monitor, mobile;

3 baker's racks, each with 12 full sheet tray capacity;

prep table, stainless steel top with after market addition of stainless steel under-shelf, approximate 90" length;

Groen steam jacketed kettle, stand-alone, model AH/1-40, gas operation, 40 gallon capacity;

Advance prep sink, single coved basin with right drain board; sink has single delivery faucet, drain board has pre-rinse capacity;

scullery sink, three basins, two delivery faucets, three basins with left and right drain boards, approximate overall length 96";

Hobart dish machine, model ET20, serial number 12124408, single tray, straight passthrough, low temperature;

2 dish tables, soiled dish table approximate 48" length with pre-rinse and pre-rinse sink; clean dish table approximate 48" length with cantilever dish rack and four various configuration dish trays;

Ewave microwave oven, model EW11E2ST;

food stuffs and sundries include "T" shirt bags, tea, coffee, spices, caned food stuffs, vinyl gloves, dry food preparations, condiments, spices, cleaning supplies and carry out containers

RATTLE WARE: partial list includes sauce pans, saute pans, fatigue matts, refuse containers, variety of steam table inserts, plastic table and glassware, kettles, colanders, graduated measurers, portion scoops, storage containers, tongs, slotted and whole steam table stainless steel spoons, portion ladles, whips, cutting boards, dunnage rack, 2 composition carts, mop bucket, small step ladder, cleaning supplies, stainless steel flatware, portable fire extinguisher, fatigue mats, more!
Note: the kitchen and production equipment is very contemporary; some being one year old or less!
Removal: auction day for two hours after the conclusion of the auction and on Wednesday, May 23rd from 9:00 AM until 1:00 PM . . . ONLY!
Preview auction day at 9:00 AM or immediately in our photo gallery and get driving directions with the location maps.
TERMS: 10% Buyers Premium; payment with cash, New York State drawn check, VISA/MC. Auction authorized by the Secured Creditor.