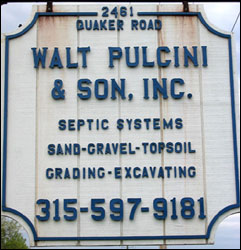 FEATURING: Mobile screening machine, Powerscreener - model MK II power screen, serial number 2746147, three cylinder Lister-Peter diesel engine, number 4800333TX3A001, overhauled within three years, condition - very good, Technical Specifications; 1989 John Deere 490 excavator, serial number CK04905010610, hours 5,353.3 registered, swamp tracks, 36" bucket, runs very good, condition - good; 1991 John Deere 450G crawler/dozer, serial number T0450GF774497, 6 way blade, 4,772 registered hours of operation, 50% sprocket wear, condition - good; Ford 4500 loader/back hoe, diesel engine, 18" bucket, loader number 4770, tractor serial number, 957E-4033A, condition - fair to good; VEHICLES & ROLLING STOCK: 1978 Ford six wheel dump truck, Custom Cab model 8000, five speed standard transmission with low range with Jasper rebuild 3208 diesel engine, 1991 Chevrolet Kodiak six wheel flat bed truck with 40' man lift, VIN 1GBM7H1J5MJ103731, Cat 215 hp diesel engine, five speed standard transmission with 133,276 registered odometer miles; 1989 Ford F-250 XL, four by four pick-up truck; VIN 2FTHF26G1KCA20612. This vehicle has a 460 cubic inch, V-8 gasoline powered engine, automatic transmission with 71,665 registered odometer miles, AM/FM radio, 8' Western snow plow; 1994 Ford F-150 XLT, four by four pick-up truck; VIN 2FTHF26H0RCA33399. This vehicle has a dual tank gasoline powered engine, automatic transmission with 84,538.2 registered odometer miles. The factory installed package includes air conditioning, AM/FM/cassette, tilt steering wheel, cruise control, power door locks and windows; 8' Meyers snow plow with touch tone control pad; 1974 Brockway 10 wheel dump truck, good running diesel engine; 1987 International S-1700 chassis with Thomas 20 passenger short school bus, VIN 1HVLNHGM0HH5211135, Jasper re-built diesel engine, automatic transmission with 84,083 registered odometer miles, new stereo and public address system, runs great; 1993 Toyota Paseo two door sedan, VIN JT2EL45U8P0153647, automatic transmission with 118,422 registered miles, air conditioning; Chicago pneumatic air compressor, dual axle, tag-a-long with tools and hammer, model 58688, serial number 125PG-2; New Idea 1600 14' chisel plow, 10' disc, 2 - 2-bottom plows, hay rack, small utility trailer, 1961 Willis utility vehicle, ALSO SELLING: granite curbing, various sizes and lengths, approximate count 100 units, varying from 2' to 8' length; 4 cubes 3 core 8" concrete block, concrete distribution boxes, 4 "I" beams, 21" x 8¼" x 39' measure, 2 "I" beams, 20" x 6¼" x 26', 2 port-a-potties, 2 - 28' light poles, double pole "retail" sign, fifteen (15) sections scaffolding, casement windows, doors, 20 ton hydraulic press, Speed Aire horizontal air compressor, model 32176B with Dayton motor; 500 gallon fuel tank with pump, PARADE WAGON with 28'x 8' diamond plate staging platform, tow behind; Harley Davidson gas golf cart, RETRO: Travel Home travel trailer, circa 1950, single axle, 26" length, hardwood interior, full galley, dinette area, bathroom, one bedroom, ANTIQUE: Bay City cable controlled shovel, more!
Note: DO NOT miss this power screener! It looks virtually NEW.
Preview auction day at 9:00 AM or immediately in our photo gallery and get driving directions with the location maps.
TERMS: 10% Buyers Premium; payment with cash, New York State drawn check, VISA/MC. Auction authorized by company management.