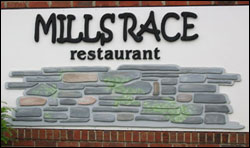 KITCHEN/PRODUCTION EQUIPMENT: True single door reach in cooler, temperature monitor, lower self contained; True under counter cooler, one door, self contained with stainless steel work top surface, Manitowoc ice machine, mini-cube with 400 # storage bin; cold table/salad bar unit, 48" length, mobile, self contained 110 volt, Imperial single deck gas convection oven (Note that this unit is four years old, has been used daily - AND - it looks NEW! Condition - excellent!), Vulcan range, six burners left over single finish, three burner griddle right over broiler /melter; Frymaster and Imperial floor mount deep fryers, Univex food mixer, floor mount, model SRM30 (30 qt.) with multi-speed timer, bowl elevator with guard, whip and hook, 110 volt operation; Eagle four-hole steam table with front hardwood assembly surface and two stepped-up shelves, 64" length; 2 Hatco infrared food warmers, Hobart single drawer warmer, Sharp commercial carrousel microwave, Hobart 12" gravity feed food slicer, 2 Kitchen Aide counter top mixers, Dynamic portable power mixer/emersion blender, all stainless steel prep table, back splash, two under shelves, 8' length, with attached # 1 Edlund can opener; hardwood bakerís prep table, 72" length; 2 appliance stands/perp tables each with front drip collection, dish tables - clean dish table 7' length with pre-rinse, soiled dish table 74" length with double basin scullery sink with single delivery faucet; dish racks, Kenmore upright freezer, Kenmore chest freezer, several sections Metro-type and utility shelving, 16" exhaust hood, 8 filter capacity with six head fire suppression system, side exhaust discharge; large quantity (white) commercial grade china (some still in cases), pots, pans, rattle ware, sheet trays, bakerís rack, round and square steam table inserts, braising pan, two Cambro insulated beverage containers, two (02) bulk food storage containers, refuse containers, miscellaneous grocery and food stuffs.
FEATURING: antique refrigerator, General Electric, single door, top mounted compressor . . . this unit has all of its original hardware and it is functional! but being used for display and a service utility.
DINING ROOMS: 8 pedestal tables, 30" x 30" simulated hardwood Formica top on four point metal base; 10 pedestal tables, 46" square simulated hardwood Formica top on four point metal base; 1 square to round 52" diameter/36" square, simulated hardwood Formica top on four point metal base; many tables have d" glass protective tops, 40 hardwood guest chairs with spindle barrel back (heavy duty), 10 stacking guest chairs, black over-painted metal frame with gray upholstered seat and back; 13' upholstered bench, black vinyl cover with slip seat; very nice collection of decorative accessories, local memorabilia, faux and real plants, table top accessories, lg. qt. stainless steel flatware flat ware, portable room divider, interior swinging doors.
LOUNGE: True back bar cooler, three glass/display doors, lock, 91" overall length, self contained, model TBB, serial number 1164332; five door Formica clad back bar cooler, remote; under bar unit with three coved basins, flanked left and right with drain board and far right ice jockey, overall length 113"; 10 tall hardwood bar stools, green vinyl upholstered seat, slat back with brass foot rail; 30' carpet and hardwood bar, Royale cash register, multi-departmental, single drawer with customer read; Verifone credit card machine with printer, General Electric 28" television, bar and cocktail accessories.
Note: As I hope you all know by now, I am an ardent supporter of the independent restaurant operator. A good independent operator can compete with a chain operation any day of the week! I try to ONLY dine at and support the people that I know and who do business with me.
Regarding this restaurant and operation . . . a friend and I enjoyed an evening meal on the same day that I talked to Bob and Kathy Grant about the auction of their restaurant trade fixtures and equipment. Bob is a CIA graduate and has worked at a number of noteworthy restaurants. He and Kathy have operated this facility for seven successful years. It is an understatement to say that our meal was sensational!
Additionally, during my inspection of the facility, the condition of the equipment and the cleanliness of the kitchen and dining areas was equally impressive. I surely wish that I had discovered this gem of a restaurant more than two weeks before it will close. It is my distinct privilege to represent the Grantís in the sale of their restaurant trade fixtures!
I encourage YOU to attend this auction. Additionally, if you are looking for a Chef of the highest caliber, I will give Robert Grant my whole hearty recommendation!
Removal: for two (02) hours at the conclusion of the auction. And, on Wednesday, July 12th from 09:00 AM until 01:00 PM
Preview auction day at 9:00 AM or immediately in the photo gallery and get driving directions with our location maps. TERMS: 10% Buyers Premium; payment with cash, New York State drawn check, VISA/MC. Auction authorized by Robert and Kathy Grant.