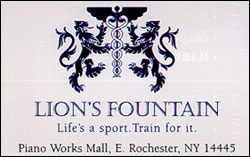 PLATE LOADED MACHINES: CYBEX . . . VR2 AB Machine, back extension, VR2 leg extension, Cybex VR2 seated leg curl, glute machine, leg press, rotary hip, VR2 dual axis chest press, overhead press, dual axis rower/rear delt machine, VR2 arm extension machine, VR2 Arm Curl, assisted chin-up/dip, Vantum and other cable cross over, Reflex leg curl, Reflex leg extension, Reflex pectoral butterfly, Eagle arm curl, Eagle Tricep Extension, Eagle and other single column cable pull, Life Fitness lateral raise, Magnum biangular horizontal chest press, Magnum Biangular incline chest press, Magnum Biangular wide lat pull, Streamline seated row, Quantum seated tricep, Quantum prone leg curl, Quantum inverted leg press, Quantum leg press, Power Racks, Squat Rack, Total standing calf, more . . .

FREE WEIGHT EQUIPMENT: various bench presses, flat, include, decline, seated; curling benches, ab bench, dip rack, Olympic weights, various cable and free weight bars, various free weights, dumb bells, vertical and tiered weight racks, crunch bars, more . . .

SPINNING: 11 Schwinn IC Pro indoor cycling bikes, new in 2004; 6 CycleOps cycling machines, Kreitler, "Killer Headwind Trainer" cycling machine, more!

CARDIO EQUIPMENT: (all with electronic monitors), 7 PRECORE EFX 544 Elliptical Fitness Crosstrainers, 3 Trotter (Cybrex) 710T treadmills, 4 Club Track Plus (Quinton) treadmills, 3 StairMaster 4000 PT steppers/climbers, 2 Tectrix ClimbMax 2000 steppers/climbing machines, StairMaster FREECLIMBER 4600 CL, 2 ERGOMETER SX1 Kettler Cardio Fitness machine, Pro II SCIFIT seated peddle machine, StairMaster Spinnaker 3000 CE stationary bicycle, 2 Schwinn stationary bicycles, 2 Concept 2 rowing machines, some steppers for parts, aerobic exercise mats, 24 fitness balls, two weighted gym balls, lg qt stackable steps and risers, more.

FITNESS FLOORING SYSTEMS: approximately 329 heavy-duty black rubber interlocking equipment mats, each mat measures 38" x 38" (approximate); approximately 3,000 square feet of gray interlocking aerobic/exercise fitness flooring, each is 1' square.

ALSO SELLING: Sharp XE-A101 cash register, single drawer, multi-departmental; customer counter, lower display with cash register recess; True display cooler, single door, self contained with cantilever beverage racks; three televisions with wall mount racks, Orion 19", Zenith 25", Toshiba 27"; Zenith VHS machine, Pioneer SX 203 receiver, sound and reproduction equipment with Sunn SR4150 amplifier with high volume speakers; several sections Penco and Ideal lockers, Spectrum tanning bed, 6' half vision full glass show case, 4' full vision show case, full vision tower display case, traffic matts, large quantity walled mounted mirrors, bulletin and white boards, industrial floor mount fans and all mount fan, HP Officejet 5510, printer, fax, scanner, copier; limited office furniture, desk, secretary style chair, bar stools, guest chairs, knee hole desk, four drawer file cabinet, two drawer file cabinets, single door pine storage cabinet, several wooden side benches, more!

Note: this equipment is spotless, in NEW condition. This is the perfect opportunity to add to your professional gym or your home gym with high quality professional fitness equipment!

Removal: at the conclusion of the auction - until 5:00 PM. And on Thursday, December 14 from 9:00 AM until 3:00 PM.

Preview auction day at 9:00 AM or immediately in the photo gallery and get driving directions with our location maps.

TERMS: 10% Buyers Premium; payment with cash, New York State drawn check, VISA/MC. Auction authorized by landlord.