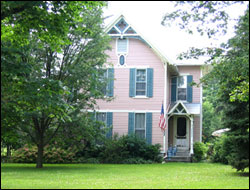 LAST MINUTE ADDITION . . . 1999 Chevrolet 3500 utility van, VIN 1GCHG35R8X1008441. This truck has a 5.7 liter V-8 gasoline powered engine, automatic transmission with 40,628 registered odometer miles. It has a white exterior with a gray interior. Factory installed amenities include air conditioning, AM/FM cassette sound system, tilt wheel, cruise control, delay wipers with a sliding side window door. After marked additions include cargo interior insulated and finished with load lock system and a passenger security cage. The obvious CONDITION of this vehicle is VERY GOOD to EXCELLENT!
ANTIQUE FURNITURE: oak Ithaca tall clock, walnut marble top chest with mirror and secret drawer, with companion oak three glass door display cabinet with rope twist columns and craved back splash, oak buffet with finger craved embellishments with companion mirrored gallery top, extension oak dining table with six leaves, with additional supporting legs with unusual foliate frieze, four oak, cane seat, press back Heywood-Wakefield chairs, Wells Cabinet, Syracuse NY circa 1900 oak filing cabinet, collapsible interior shelf and file holder, oak roll top desk, "S" roll, paneled side and back, cubbied and drawered interior, width is 50", drawer dresser with hidden drawer; walnut framed Lincoln-type rocker, rose back chair with needle point cushion, birds eye maple and cherry Federal chest of drawers, cane seat chairs and rockers, oak mirrored dressing table, ball and claw piano stool, tiger maple four post bed, flat and dome top trunks, tiger maple, rush seat chair, small oak plant stand, barrel back mahogany chair with Griffin head arms, set of three nest tables, Italian motif; Victorian walnut stands, one marble top; Victorian marble top lamp table, two mahogany rockers, oak four drawer lift top table top/school master's desk, oak mission desk/library table, Victorian ladies walnut desk with champignon cane seat chair, two door Federal cherry drop leaf work stand, 40 drawer hardware/storage cabinet, pine, original cast iron pulls . . .
GLASS, CHINA, TEXTILES, SMALLS: Large Quantity of August Hueter blown glass, paper weights, novelty items, vases, perfume bottles, etc.; sampler marked Harriet Grant 1835, reputed to be a relative of Ulysses S. Grant; several quilts to include patch work, yo-yo, flying geese pattern quit top, early applique' quilt top, applique' quilt with provenance, type-set tray filled with collectible buttons, mint condition Ideal doll, "Littlest Angel" doll, early 1950, Heubach baby doll and Armand Marseille baby doll, Ginny and Gill character dolls, Mary Hoyer character doll, Storybook doll, group of early to mid 20th century collectible dolls, mid 19th century fashion prints, circa 1930s woman's clothing, very fine full length velvet evening coat with silk lining, green silk crepe with beaded top, cuckoo clocks, old baskets, trumpet, E.E. Olds & Son in original case, Los Angeles; trombone, Brua C. Keefer Mfg. Williams Port PA; mounted collection of arrow heads, Wallace sterling five light candelabra, approximately 14" tall; sepia photo of young soldier probably Spanish American war, vintage, oak and plaster frame; large quantity LP records, Navahoe area rug, collection of tea cups and saucers, Carta Blanca neon sign and Dos Equis XX neon sign, Holgate rail road blocks with original bag, old snow shoes, rare locomotive bell, old games, youth sleigh, first edition Harry Potter, oak fishing/camping table . . .
CRAFT & SHOW ITEMS: Skutt electric potter's kiln, 220 volt operation, pottery molds and accessories, Abstracta modular display units with glass and mirrored shelves, lg qt glass shelve display units, craft fare display lights, 10' x 10' pop-up tent with sides, 12 sections craft booth/room divider, retail supplies, gift boxes, jewelry boxes, bags, tissue paper, quantity of sliver and gold leafing material, massive amounts of sewing supplies (sold in large quantities), large quantity spooled weaving/knitting yarn and thread, adjustable table mounted yarn winder, craft/cutting table . . .
CONTEMPORARY HOUSEHOLD: computer with tower CPU, monitor, keyboard, mouse, speakers, printer, scanner, computer desk, Panasonic 32" color television, four drawer letter file cabinet, maple contemporary drop front desk, contemporary upholstered furniture, some Hallagan; mahogany knee hole desk with leather inset top, set of wicker with three cushion sofa, chair, rocker, coffee table, patio furniture, three Fedders window mount air conditioners, two contemporary bookcases, floor lamps, contemporary five shelf mirrored back display cabinet, pair of metal framed twin beds, hard and soft cover books . . .
TOOLS & EQUIPMENT: Toro Wheel Horse yard tractor, model 312 with Kohler 12.5 hp engine, 42" mid mount mower deck, snow plow, 20 hours of operation, small garden utility trailer, Parker tag-along yard rake, Red Lion concrete mixer with electric motor, Lincoln arc welder, Stack-On mobile tool chest, DeWalt abrasive saw, DeWalt chop saw, DeWalt circular saw, Milwaukee sawzall, Milwaukee hammer drill, even more hand and power tools, aluminum Werner & wooden extension ladders, step ladders, two ton floor jack, cased caliper set, several tool stands, chain fall, saw horses, vehicle ramps, two large bench vises, anvil, yard and garden supplies and tools, steel flat, round and channel stock, large quantity of nuts, bolts, hardware in cubbied storage containers, so very much more!
Note: for a portion of the day we will be running two auctions at the same time.
Preview auction day at 9:00 AM or immediately in the photo gallery and get driving directions with our location maps.
TERMS: 10% Buyers Premium; payment with cash, New York State drawn check, VISA/MC. Auction authorized by Martha Hueter.