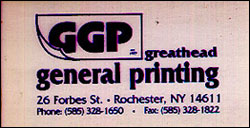 PRINTING PRESSES: Harris, model Omcsa, 19" x 26" capacity, 2 color offset press, serial number 4580; Harris, model LTN, 23" x 36" capacity, single color offset press, serial number 955; ATF Chief 10" x 15" capacity, single color offset press; Multilith 1250, 10" x 15" capacity, single color offset press; Multilith 1250W, 11" x 17" capacity, single color offset press; Davidson, model 700, 14" x 18" capacity single color offset press; Hamada model 600 CD single color offset press; multi-printing press converted to numbering machine, several printing presses for parts.

PAPER CUTTERS: Challenge paper cutter, Style F, Size 30.5" capacity, serial number F3591; Challenger paper cutter, model FDB, 37" capacity, serial number 28904; CMC paper cutter, 19" capacity, manual operation.

BINDERY & FINISHING EQUIPMENT: Sergeant shrink tunnel, Flexible packaging machine with Steady State sealing system, serial number 15945; Douthitt plate vacuum machine, type Combo, serial number 33159; Challenge three hole paper drill, Challenge single hole paper drill, Style E, serial number 15091; Rosdack perforator, serial number 56-226-52A; Baum paper folder, Ultrafold XLT, model 714XLTA-2-P-1; Baum folder, series 726B, model 26X40 CONT, serial number UF1 087; Roseback auto stitcher, serial number 20252595CS; Richmond and other back lighted layout tables, Kenro Vertical 18 plate maker, quantity and variety of ink, several paper joggers, manual paper weights.

PAPER: large quantity and variety of paper, envelopes, card stock, various sizes, weights and colors, assortment of flat corrugated, a diversity of white boxes.

WAREHOUSE: Flo lift pallet truck, 4500 lb capacity; Multiton hand truck, Yale pallet truck, Safety-Kleen-type 20 gallon parts washer, several paper and warehouse trucks, hand trucks, utility carts, large quantity utility shelving and parts, variety of utility tables, step ladders, Craftsman tool box with a very nice selection of hand tools, pedestal grinder, shop vac, oil, nuts, bolts, hardware.

OFFICE: 2 Apple tower CPU's with accessories, HP LaserJet 1300, HP CopyJet, Epson Stylus Pro XL, Dell multi-function copy/scan/fax, model DP/N 07Y643; Xerox and Cannon copiers, Brother Intelli-Fax 775, manual paper cutters, file cabinets, variety of office and stationary supplies, copier, Sharp SF-7900, Royal Crown Cola vending machine, more!

ALSO metal for scrapping!

Note: the unfortunate, premature death of the owner Steven Smith caused the auction of this very well maintained equipment.

Removal: at the conclusion of the auction until 5:00 PM and on Friday, July 7th from 9:00 AM until 4:00 PM. Loading dock and functional freight elevator available.

Preview auction day at 9:00 AM or immediately in the photo gallery and get driving directions with the location maps.

TERMS: 10% Buyers Premium; payment with cash, New York State drawn check, VISA/MC. Auction authorized by estate representatives.

DIRECTIONS: from I-490 exit at Mt. Read and go south. Take West Avenue (Route 33) east. At the TOPS Market, turn on to Gardiner Avenue, to Forbes Street.