RESTAURANT & DELI EQUIPMENT
Tuesday, October 10, 2006 at 10:00 AM
D. A. Mini Mart, 644 - 646 Monroe Ave., Rochester, NY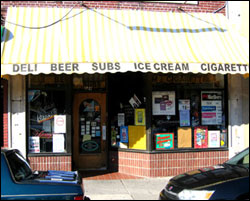 REFRIGERATION: McCray deli case, full vision front, four sliding access doors rear, interior adjustable display tray, remote compressor, 10' length; Ice-O-Matic ice machine, approx. 200 lb capacity; Beverage Air sandwich unit, 60" length, self contained compressor, two cantilever doors to composition assembly surface over two doors; Beverage Air cooler/freezer, two door reach-in serial number 1513384, door damage, condition - poor; Kenmore upright freezer, 20 cubic foot capacity; RESTAURANT - DELI EQUIPMENT: Bunn S-Series pour-over coffee machine with two air pots and air pot display risers, counter top pastry display, clear composition construction; Globe food slicer, 12" capacity blade, gravity feed; Wyott counter-top steam table, two hole capacity, 110 volt electric operation; Star hot dog roller/cooker, Smalls & Rattle Ware include steam table rounds, hand truck, mop bucket, utility stool, waist receptacles, table radio, composition food containers, Sharp cash register, model XE-A201, multi-departmental, single drawer; Magnavox security system, with two monitors; 8 sections wall gondola, several point of purchase "pop" racks, ADVERTISING SIGNS: large quantity beer promotional signs and decorated mirrors, four neon beer signs, Limited Quantity of FOOD STUFFS to include packaged snacks, canned items, small quantity of soft and carbonated beverages; MORE!
REMOVAL: WITHOUT EXCEPTION everything MUST be remove at the end of the auction. Come prepared!
Preview auction day at 9:00 AM or immediately in the photo gallery and get driving directions with our location maps.
TERMS: 10% Buyers Premium; payment with cash, New York State drawn check, VISA/MC. Auction authorized by Trustee Warren H. Heilbronner.