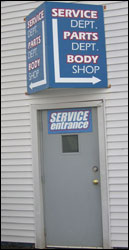 FREE STANDING VEHICLE LIFTS: Wheeltronic four post free standing drive-on vehicle lift, 10,000 pound capacity, model 63-45, single phase, 230 volt operation, serial number 00487; Globe two post free standing vehicle lift, 9,000 pound capacity, model ES9000, serial number 96AE125; VBM Automotive Lift two post free standing vehicle lift, 7000# capacity, single phase, 230 volt operation, serial number 301989; FORWARD 7000 two post free standing lift, 7,000 # capacity, single phase, 230 volt operation, serial number 056FB1370; 2 - Rotary two post free standing lifts, model P461, probably 7,000 # capacity, single phase, 230 volt operation . . .

SHOP EQUIPMENT & TOOLS: 2 - PRO-CUT "on-car" brake lathes, FMC four wheel computer alignment system, Visualiner II 900, Hunter R611 alignment system, GM Computer Test Center Smart Engine Analyzer, SUN electronic tester VAT40, Coats Rim Clamp 5030 tire changer, SUN 1762 computer wheel balancer, Conway wheel balancer, FMC and two Ammco brake lathes, 2 Ingersoll-Rand T30 horizontal compressors, Snap-on antifreeze coolant recycling system #87600, BG cooling system flusher/tester, Snap-on air conditioning system, Kent-Moore J39500 R-134a regfrigerant/recovery/recycling/recharging system, two (02) Kent- Moore air conditioner refrigerant recovery and recycling systems, USM engine lift, screw press, engine stand, stationary and adjustable jack stands, Miller Arc welder, several tank carts, small tools and test equipment, 4 mobile and stationary tire racks, several work/shop benches, thirty-two (32) sections parts shelving, parts and hardware cubbies, ZEE eye washer/protector stations, service counters, more!

TBA: several sets "take off" tires, new/old stock, repair parts, pick-up truck bed fuel tank, Dodge pick-up truck cap and others, new truck mount snow plow, more.

BUILDING PARTS: 3 sections Ray-O-Vac radiant ceiling heaters, Sanyo room-size air conditioner two condensers and one exterior compressor, various gas forced air furnaces, multi-station exhaust ventilation system, three (03) power lift, overhead doors (removal coordinated with building demolition), interior doors, ceiling tiles and grid, security mirrors, public restrooms - partitions and fixtures, wash sinks, interior and exterior signs, exterior flood lights, shrubbery, concrete pavers, more!

OFFICE & SHOWROOM: computers/accessories, several double pedestal office desks, guest and secretary chairs, 21" portable television with appliance cart & EMERSON VHS machine, decorative accessories, faux flowers/plants, Chrysler logo signs, black display back boards, two (02) literature displays, more, much more!

NOTE: The Chrysler Store has closed. This is YOUR opportunity to purchase HIGH QUALITY automotive equipment!

Removal: at the conclusion of the auction. Vehicle lifts on Monday, March 6th from 9:00 AM until 1:00 PM.

Preview auction day at 9:00 AM or immediately in our photo gallery and get driving directions with the location maps.

TERMS: 10% Buyers Premium; payment with cash, New York State drawn check, VISA/MC. Auction authorized by John Callaghan.