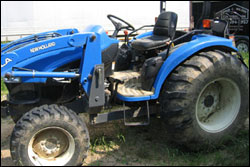 TRACTOR: 2001 New Holland TC35D tractor, 839.4 hours, 4 x 4, serial number YL324566, with New Holland 16LA bucket loader and BushHog 762H back hoe, condition - very good!
TRAILERS
Trailmobile, 42' transport/storage trailer, serial number V34797; excellent, dry storage trailer;
2 Dump Trailers . . . 2001 EA/DU (mfg.) and 1993 UDUMP dump trailers;
U.S. Cargo double axle covered wagon trailer, model number 24.506, serial number PL500G21X1036169, gross vehicle weight 7,000 pounds, two rear access doors and one curb side man access door, condition - good to very good;
Flatbed Trailer, double axle, 16' pressure treated hardwood deck with beaver tail ramps and low side rails;
1996 Dodge RAM 3500 12 passenger van; VIN 2B5WB35ZXTK153414. This vehicle has a 5.9 liter, V-8 gasoline powered engine, automatic transmission with 164,651.2 registered odometer miles. It has a forest green exterior with a light gray/brown vinyl interior. The factory package includes air conditioning, AM/FM/cassette sound system, tilt wheel, cruise control, delay wipers, power windows and door locks. Additionally, there is an electric brake unit and controller for towing. Although this truck appears to "run strong," it is in fair condition.
QUALITY TOOLS: Wheel Horse 5550 watt portable generator, Yamaha 3800 watt generator, GRACO paint sprayer, walk behind pavement striper, Honda pressure washer, acetylene kit with tanks, gauges, torches and cart; Tapco Pro 2000 port-o-bender, Bakers Scaffold (2 sections), Reimann Georger power hoist, ProJack aluminum pole scaffold, Delta, DeWalt, Ryobi & Craftsman compound miter/chop saws; Porter Cable pancake air compressor, tank air compressor, Reddy Heater torpedo heater, four (04) propane can heaters, MK #660 diamond cut tile saw, Bosch belt sander, Paslode Impulse finish nailer, Masterset powder activated fastening system, Supco nailer, DeWalt 12 volt cordless drill, Bosch e" rotary hammer, DeWalt reciprocating saw, Milwaukee circular saw, Milwaukee Hole Hawg, Stihl chain saw, step and extension ladders, tool boxes, manual hand tools, carpenter, mechanic and garden tools, drop cords, wheel barrow, fuel cans, bottle jacks, large quantity nuts, bolts, hardware
Motorcycles ATVís Boat
1999 Yamaha R6 motorcycle; VIN JYARJ04EXXA002512. This bike has a 600cc engine and is setup for racing. It has a silver and red finish with blue and white accents. The condition of this motorcycle is good.
1996 Yamaha Verago (XV7) motorcycle; VIN JYA3ALE06TA048715. This unit has a 700 cc engine, five speed standard transmission with 11,147 registered odometer miles. This bike is red and is in very good condition.
2002 Honda Metropolitan scooter; VIN JH2AF60432K000100. This unit has a 50cc engine, automatic transmission with 546 registered odometer miles. The exterior color is white with bule accents. This scooter is in very good condition.
1982 Honda motorcycle, 900cc engine, condition - fair;
2002 Polaris Trail Blazer ATV; VIN 4XABA25C534878967. This bright yellow ATV has a 250cc engine, two wheel drive, automatic (variable) transmission with unknown miles. Condition - good.
1997 Polaris Sportsman ATV, model 90; VIN unknown. This ATV has a 500 cc engine, 4 x 4 "Demand 4 Drive" with high and low range, automatic transmission with 2,144.6 registered odometer miles. It is camouflage green with a front mounted gun rack. Condition - fair to good.
1999 Starcraft 17' open bow runabout boat; HULL # STR33650A999. This vessel is powered by a 120 Mercury Force outboard engine; serial number OE359984. It has a white hull with ample bow and stern seating. It is housed on a 1999 EZ/LO transport/storage trailer; VIN 4WSRAHKC0XA005228. The condition of this boat is very good!
Removal: ALL purchases MUST be removed at the conclusion of the auction!
NOTE: by ANY measure, this is an Excellent Auction!
Preview auction day at 9:00 AM or immediately at photo gallery with descriptive detail, and location maps
TERMS: 10% Buyers Premium; payment with cash, New York State drawn check, VISA/MC. Auction authorized by Secured Creditors and Bankruptcy Trustees.