HOSPITAL - NURSING HOME EQUIPMENT
HOUSEHOLD FURNISHINGS & APPLIANCES
Friday, December 9 at Noon - get your BEST choices
Friday, December 9 at 5:01 PM - 8:00 PM - 50% off
Saturday, December 10 at 9:00 AM until Noon - 75% off
Saturday, December 10 at 2:00 PM - Cleanup Auction
Auction Preview at 1:00 PM
Wayne County Nursing Home, 7376 Route 31, Lyons, New York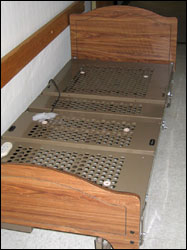 HOSPITAL - NURSING HOME EQUIPMENT: electric and manual hospital beds, invalid chairs, variety of stationary and mobile walkers, 60+ maple and Formica three drawer side stands, 40+ shelved dressers, 100+ over bed tables, mobile clothes bins/hampers, mobile medical carts/storage carts, Detecto counter-balance scales, more . . .
INSTITUTIONAL & EVERYDAY FURNITURE: very nice selection of upholstered sofas and chairs, large quantity of upholstered recliners, Queen Anne-style wing back chairs, table lamps, variety of office and kneehole desks, desk chairs, file cabinets, computer tables, typewriters, copiers, mobile side stands, literature organizers, book cases, round, square and rectangular Formica-top pedestal tables, 6' banquet tables, mahogany extension tables, hardwood and Formica side tables, pedestal table tops, card tables and folding chairs, large quantity of side chairs - oak, mahogany, pine and stack chairs; mail boxes, much more . . .
SHOP - UTILITY: metal cabinets, utility shelving, rolling racks, metro mobile shelving, commercial vacuum cleaner Tennant 3240 floor machine, waste receptacles, very much more . . .
ELECTRONIC: General Electric, Gibson & Westinghouse refrigerators, Frigidaire stacking washer/dryer, GE console and Orion 19" portable televisions, several VCRs, electronic stereo equipment, ESTEY spinet piano, Lowrey Genie 98 organ, mobile hair drier . . . all very nice stuff!
30 + BICYCLES . . . good selection and variety of with Adult and Children bikes of All Sizes, All Styles...Mountain, Touring, Street, BMX, Extreme, Multi-speed, trick. Quality manufacturers!
Removal: immediately upon purchase.
Preview all merchandise during the liquidation and remaining goods at 1:00 PM prior to the clean-up auction, and immediately in our photo gallery and get driving directions with the location maps.
TERMS: 10% Buyers Premium; payment with cash, New York State drawn check, VISA/MC.