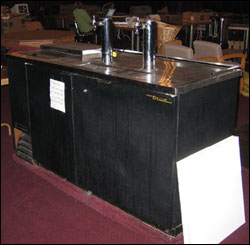 RESTAURANT & BANQUET: keg cooler, True (mfg.), two door with two tap heads, self contained on mobile base with 16" flat top door, 69" overall length, lock; mobile service bar with recessed 31" ice jockey, overall length 94"; range, Garland, six burners left, 24" by 24" griddle right over two finish ovens, gas; double deck pizza/bakerís oven, Garland, metal interior decking, 230 volt operation; dish machine, Jackson (mfg.), model Conserv, low temp, single tray straight pass thru with 52" soil dish table with pre-rinse, plate scrape receptacle and upper cantilever rack with 52" clean dish table; ss appliance stand with electrified back splash and galvanized under shelf; walk-in cooler door hardware, 200 + stack chairs, brown vinyl upholstered seat and back on brown over painted metal frame, upholstered barrel back chairs, 12 duce and four tops, square and rectangular simulated oak Formica top on chrome plated pedestal base; pedestal cocktail tables, ten 8' banquet tables with wooden tops, poker table, variety fo glass, Shenango and Buffalo china, American MetalWare coffee urn, large hanging insect light, fatigue matting,
FEATURING: projection TV, Sony VideoScope model VPH2030Q1, Multiscan; jukebox, Hyperdeam Laser Disc Performer Classic # 33101921; ceiling mount; multi-clean floor machine, five section 13" stage riser, multi-panel, full stage curtains with valance and backing, burgundy Vellore; several panels black fabric staging curtains, four free standing burgundy curtain dividers, several hundred square feet oak stage flooring,
BUILDING FIXTURES, etc.: misc kitchen cabinetry, wall and ceiling light fixtures, interior doors, Wood molding, wains coat style paneling, mirrors, fiber glass extension ladder, public rest room fixtures, including toilets, urinals, sinks, privacy partitions, back lit signs, wall mount drinking fountain, two burgundy fabric upholstered love seats, eight lighted ceiling fans, multi-globed; sixteen double light wall sconces, 2" by 4" and 2" by 6" lumber,
EXTERIOR: variety of evergreen shrubbery, gambrel roof utility shed, exterior deck, 24' by 44', pressure treated; multi-light exterior pole lighting, more!
Removal: recommended on auction day! Also, Wednesday, November 30th from 9:00 AM until 1:00 PM.
Preview auction day or immediately in our photo gallery and get driving directions with the location maps.
TERMS: 10% Buyers Premium; payment with cash, New York State drawn check, VISA/MC. Auction authorized by club membership.