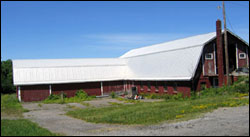 Ephemera (paper) - local pamphlets, books, manuals, periodicals, promotional items: just a sample listing of wonderful treasures . . . Rochester The City of Photographic, published by EKC, dust jacket; Rochester Saving Bank Rochester History book, 1893 Chamber of Commerce book promoting Rochester, Rochester Historical Society, State of New York Forest Fish and Game Commission, 1934 Rochester Centennial, 1932 Finger Lakes Topics Magazines, 1907 Road of Thousand Wonders magazine, 1918 Ford Care Book, Saxon Motor Car and Ford Model A instruction manuals, Overland Whippet Model 98 manual, old Delco instruction manuals and Continental Motors Corporation, 1904 Gold Metal Flour Cookbook and other old promo. cookbooks, old hardcover books, old sheet music, old newspapers from last century. Take note . . . the above is just a small description of the quantity, quality and significance of bound local material that we preliminarily discovered.
Very Interesting variety of Country Antiques & Collectibles: enamelware, Lisk-Savory Corp., Canandaigua NY; nice selection advertising signs, wooden advertising boxes, variety of wooden (old) & metal hinged boxes, wood plane, galvanized pails, counter balance platform scale, walnut desk chair, butcher block, plant stands, bridge lamps, US military oxygen sphere, marble slabs, tin ceiling sections (from Brigham Hall), variety of antique snow skis and poles, old sports equipment, old snowshoes, crockery, copper cone and other copper buckets, buck saw, ice tongs, old fish nets, small counter balance scale, hog scales, wide variety of barn, carriage, house, boat and railroad lanterns, Dietz clear and colored globes; qt of ruby to clear globes, cased ceiling globes, old glassware, variety of apothecary and other old bottles, oil lamps, small quantity marbles, iron kettles and pots, ornamental canon, old piston pump, rockers, deep frames, walnut stepped back chest, five drawer chest with flamed drawer fronts, old fish poles and tackle, brass air pump, award metals, tin banks, tank periscope, jade pick set, Japanese china pre WW II, flow blue, nested bowls, copper torches, baskets, old manual hand tools, multi-drawered cabinet, cane furniture, Sterling wood/coal stove, portable oil camp stoves, old license plates, copper boiler, wooden crates, large deep set plaster and wood frames.
FEATURING: several hundred board feet of black walnut and cherry planks; plywood planks and sheeting, true 2 x 4's, 4x 4's, rough cut lumber, pallets.
Large Quantity and Unique Variety of Commercial Assets: Sensation (mfg.) commercial 14" trim mowers with Techmunsia engine and aluminum housing, original Snapper and other rotary mowers, metal and wood utility shelving, pressure tanks, fuel tanks, fire canisters, flood lights, large quantity small power and hand tools, drop lights and cords, Porter-Cable/Syracuse circular saw, Giant vac gas operated mobile blower, peg board fixtures, variety of hand trucks and dollies, fencing, 12' and other step ladders, orchard ladder, marble radiator slabs, several sections utility/furniture racks, generator cradles, Hickock belt boxes, variety of storage boxes, electronic test equipment, free standing heaters, Singer portable electric heaters, large number of electric motors, gasoline engines, 4 one lung generators, Gould pyramid piston pump, variety of Westinghouse and Sylvania bulbs, copper, galvanized and PVC plumbing, oil, fluids, lubricants, angle iron, large quantity spoil wire, large quantity every conceivable variety of nuts, bolts, hardware; 17' cedar construction run about boat, boating accessories, life preservers, canoe paddles, ores, saddle stand, free standing and wall mounted fans, galvanized tubs, wheel barrel, wood rack, scrap metal, trailer axles, springs, misc doors, trailer fenders, old hubcaps, mixed wood poker table with felt playing surface, yard and garden furniture, skeet/trap throwers, more!
NOTE that Mr. Schwarz collected a wide variety of unusual and interesting things for his entire life. This real property, overlooking Canandaigua Lake has been sold and FORCES the disposition of the entire stored contents and collection contained in this huge barn! We will be conducting two auctions. Come prepared and come planning to spend the day enjoying one of the most spectacular views overlooking the entire Canandaigua Lake. Expect Discoveries! Expect the Unusual! Prepare for an EXCELLENT auction!
PHOTO GALLERY: This auction is the epitome of "A picture is worth a thousand words." Take the time to inspect the photographs!
Preview auction day at 9:00 AM or immediately in our photo gallery and get driving directions with the location maps. We will be selling from two auction rings.
TERMS: 10% Buyers Premium; payment with cash, New York State drawn check, VISA/MC. Auction authorized by estate representatives.