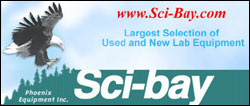 Link to www.Sci-Bay.com for Superb Individual photos and detailed item by item description.
Management Ordered absolute sale of excess inventory!!
Balances, Scales, Spectrophotometers, Benches, Hoods, Incubators, Steam Generator, Centrifuges, Lab Instruments, Chromatography, Microscopes, Vacuum Pumps, Clinical, Microtomes & Histology, Office/Class Equip & Supplies, Distillation & Demineralization, Ovens, Elect. Motors, Supplies, Photography, Electronics, Pumps, Glassware, Shelves & Pallet Racks. Also, selection of household!
Note: this is a Management Ordered absolute sale of excess inventory. Moving to another, smaller, warehouse. Selling ALL of the remaining Geneva warehouse inventory! We would rather have YOU move it than us.
Removal: small items at the end of the auction. Large items on Friday, April 1st from 9:00 AM until 2:00 PM. Loading dock and ground height loading. Fork lift for palletized items.
Preview auction day at 9:00 AM or immediately in the photo gallery and get driving directions with the location maps. For VERY Detailed individual product descriptions and superb photographs, we advise that you access this LINK to www.Sci-Bay.com
TERMS: 10% Buyers Premium; payment with cash, New York State drawn check, VISA/MC. Auction authorized by company management.
Link to www.Sci-Bay.com for Superb photographs and VERY detailed item by item description