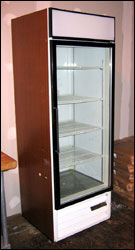 Downsizing with business re-direction . . .
Ordered by Management to Sell at Public Auction
BAKERY & RESTAURANT EQUIPMENT . . .
Traulsen proofer, full-function with digital time/temperature monitor;
Oliver bread slicer, model 777, serial number 145151, single phase 115 volt, blade set number 22A; US Berkel bread slicer, counter top, 16" capacity;
Landa bread crumb machine, counter-top;
Edhard pastry fill machine, model MK, serial number 16532, with extra hopper;
2 Hobart food choppers, model 84145, 115 volt single phase; two large mixing bowls, 34" diameter with one mobile base;
2 prep tables, stainless steel top and under shelf, top measures 72" by 30"; prep table, stainless steel top, galvanized under shelf, top measures 30" by 60", mobile; hardwood baker's prep surface measures 36" by 60"; several sections Metro racking, stainless steel 10' wall shelf; Gardener Insect-Electrocutor, model AG 969; exhaust fans, several dunnage racks, several insulated totes, carry out food and beverage supplies, tall Pedestal table, 29˝" diameter, brown marbleized top, black anodized base, foot rail with two modern chairs;
HATCO hot food display, FLAV-R-SAVOR, holding and full vision display cabinet, four level rotating carousel, front and rear access doors, approximately 24" square;
SMALL ITEMS AND RATTLE WARE . . .
Penscale counter balance portion scale; round and square bulk food storage containers, mobile; muffin forms, bread pans, 80 - 15 unit cookie mold trays, cake pans, bakers basket trays, 88 full sheet trays, half sheet trays, several mobile bakers racks, cantilever can rack, nice selection of small items and rattle ware , 8 pastry form rollers, baker's accessories and finishing tools, variety of clear product display covers, Cuisinart food processor, RIVAL Crok-Pot RIVAL, Emerson microwave (MW8626W - not commercial grade), heat sealer, 18" capacity, counter top; more!
COFFEE SERVICE . . .
RANCILIO espresso machine, model S20 SYSTEM-DE, two head with appropriate accessories;
RANCILIO coffee bean grinder, Rancilio (mfg.);
Curtis coffee machine, model C500 AP, 2.2 liter, direct plumb; several air beverage pots (some new),
REFRIGERATION . . .
Federal European-style refrigerated display case, full vision curved front case, 50" width with two banks of three adjustable interior shelves, double rear door access, 220 volt operation, lower self contained compressor
Beverage-Air display cooler and/or freezer, model MT 21, serial number 2819583, single door, lower self contained compressor;
Hussman open cooler, top lighted for three adjustable, stepped-back display shelves, lower self contained compressor;
True reach-in cooler, 2 door, model T-49, serial no. 1-1502929, analog temperature monitor, lower self contained compressor, all stainless steel exterior, lock, mobile, 54" width;
Delfield reach-in cooler, 2 door, model 6051-S, serial no. 180362-T, analog and digital temperature monitor, lower self contained compressor, all stainless steel exterior, lock, mobile, 51" width; Haier and GE mini-refrigerators,
OFFICE & MISCELLANEOUS: cash register, Royal (mfg.), model Alpha 9170, electronic with DRO customer read, receipt capacity, single drawer, multi-departmental; 2 fax machines, one Brother IntelliFAX 1170, one Brother IntelliFAX 770, both plain paper; adding machine, SHARP, model EL-1197G III; metal tall storage cabinet, Sandusky (mfg.), 2 door, 4 interior shelves, lock; limited office furniture, E-Z Up instance shelter, 10' by 10' pop up tent on white enameled accordion frame, decorative wood framed Dutch windmill, additions expected
Parking available across the street at Central Storage.
Personal note . . . If YOU need center city storage in a safe, heated inside environment, I recommend this facility. You can contact Michael Hertzberg at 585-232-1141. I have used Mr. Hertzberg's above average facility, and his rates are fair!
Note that this is an Excellent Auction of Very Good, Very High Quality equipment, some of which is less than two years old. Selling because of business re-direction. Park Avenue Bakery is NOT going out of business!
Removal: for two hours at the conclusion of the auction.
Preview auction day at 9:00 AM or immediately in the photo gallery and get driving directions with the location maps.
TERMS: 10% Buyers Premium; payment with cash, New York State drawn check, VISA/MC. Auction authorized by Charles Zanghi.