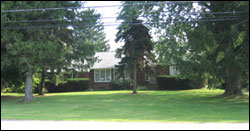 SMALL TRACTORS: John Deere yard tractor, model L110, 92 registered hours of operation, 17.5 hp engine, 42" mid mount rotary mower, condition very good! Ariens yard tractor, model S-10G GEAR, with Ariens two stage 48" front mount snow blower, mid-mount 60" rotary mower; Kohler K241S (sure start) engine, wheel weights, 3 point hitch, condition fair to good!
POWER & HAND TOOLS: Homelite generator, 1300 PSI pressure washer, Delta Shopmaster 100 PSI, 2 gallon air compressor, Craftsman table saw, Rockwell chop saw, several circular saws, DeWalt sander, Black & Decker grinder, several impact drills, Schwumacher battery charger, 8 gallon Shop Vac, small utility trailer, very large quantity of commercial grade hand tools, tool boxes, Black & Decker, Workmate portable bench vice, bar clamps, propane heater, Homelite commercial spot lights, wheel barrel, insulation, nuts, bolts hardware, large quantity lumber, masonry block, step ladders and fiber glass extension ladder, drop cords, fuel cans, trash receptacles, fire extinguisher, air tanks, Briggs & Stratton gas engine, electric motors, more!
YARD AND GARDEN TOOLS: Mulch Maker chipper/shredder with Tecumseh 5 hp engine, Mantis Chipmate electric chipper, chain saw, PowerPro 1.6 hp mini tiller and Mantis mini tillers, Ariens rear tine roto tiller, Homelite gas hedge trimmers 16" and others, string trimmers, gas and electric blowers, broad cast spreader, three Soaker hoses, more yet . . .
RIFLES: Ithaca model 37 Featherlight 20 gauge shotgun, serial # 371506847; Marlin 22 caliber, model 60 rifle, serial # 07364268; Remington 22 caliber, Speedmaster, model 552; serial # A1727987; New Keystone 12 gauge single shot shotgun; serial # 5940; New England 12 gauge rifled barrel shotgun, serial # NH517820; Bear Whitetail Hunter bow, with three quills, AMO 44", serial # WH-84237 . . .
INVALID SCOOTER: Titan Pace Saver invalid electric scooter, aluminum folding ramp (used to load the scooter) . . .
COLLECTIBLES: set of four Hitchcock chairs, maple nursing rocker, twin iron bed, German Steins, collectable china cups, variety of press glass, stem ware, novelty pins, M&M novelty collection, baskets, table linens, two pair weighted sterling candle sticks, one Victor and Co. sterling youth spoon, sliver plate tea set, Holmes & Edward, "sterling silver inlaid" set to include: six knives, seven bullion spoons, six diner forks, five tea spoons, one sugar shell, one master butter, one serving fork, two serving spoons, one serving shell and one gravy ladle; ROGERS BROS. silver plate to include: five table knives, six salad/desert forks, seven diner forks, eight bullion spoons, thirteen tea spoons, one sugar shell, one master butter, two serving spoons (1847), miscellaneous sliver plate, iron cooking ware . . .
HOUSEHOLD: cherry buffet/china cabinet, cherry extension table with three leaves, four maple dining chairs, two with arms, Contour Chair-lounge with power adjustable recline, Schweiger three cushion upholstered sofa with matching chair, several upholstered rockers and recliners, oak entertainment center, two leather desk chairs, office style double pedestal knee hole desk, 8 drawer card file, table & floor lamps, stepped back end tables, butcher block style end and coffee tables, contemporary/modern style bedroom suite with queen size head board, night stand, mirrored dresser and armoire; contemporary limed oak four drawer chest, mirrored dresser and night stand; queen size bookcase head board, framed prints, decorative accessories, faux plants and flowers, GE upright freezer, FUM 14S, condition - good, Bionaire air cleaners, Emerson MoistAIR and Holmes humidifiers, Holmes space heater, two Northern kerosene heaters, Hunter low profile ceiling fan, Hitachi cable ready 32" color television, Magnavox 26" color television, GE 13" television with integral VCR, Sylvania 13" portable television, Panasonic Photoshot, Palmcorder, Emerson VCR, large quantity of Disney and general audience VHS tape, HP desk jet model 932C printer, BSR turn table, Pioneer dual cassette deck, Oster toaster oven, Panasonic microwave oven, small household appliances, Corning ware, pots, pans kitchen klutter, kitchen dinette, two mobile appliance carts, Hoover upright Caddy Vac, nice selection of cook books, hard and soft cover books, table and decorative linens, towels and bedding, canning jars, Xmas & holiday decorations, small Sentry safe, Breezy wheel chair, walker, Body By Jake trainer, Weslo model 845 treadmill with digital read, Ergometer exercise bicycle model Voit TRE, ping pong table and misc. sports equipment, patio furniture, picnic table, Coleman smoker/grill, more. Discoveries yet to be found!
Note: Very Nice estate auction! You will want to inspect this merchandise There are certain to be discoveries. Just LOOK at the preliminary photographs and you will see just how much work and organization we need to accomplish.
Preview auction day at 9:00 AM or immediately in our photo gallery and get driving directions with the location maps.
TERMS: 10% Buyers Premium; payment with cash, New York State drawn check, VISA/MC. Auction authorized by Executrix Linda Basinait.