TOOLS: Atlas 24"by 4" lathe, Craftsman wood lathe, DeWalt & Craftsman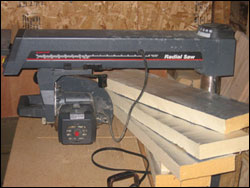 radial arm saw, shop vacs, hand tools, fire extinguishers, two by ten planks, extension ladder, wheel barrel, mobile cart, tool boxes, drop cords, tripod stands, fatigue matts, vehicle roof racks, signs . . .
LOCAL HARDWARE DEALER
CONSIGNING BRAND NEW
POWER & HAND TOOLS
LARGE QUANTITY
BUILDING SUPPLIES: Wheil-McLane hot water boiler, HVAC, large selection nuts, bolts, hardware, PVC pipe and fittings, copper, galvanized pipe, vanity sink inserts, shower stall, invalid grips, electrical supplies and hardware, spooled cable, electrical boxes, flourescent tubes, high security mail boxes, Genie garage door openers, 3 coved basin scullery sink with left & right drain boards, 90" overall length; hand wash sinks, commercial carpet, carpet tiles, linoleum, molding, steel studs, furring strips, orange fencing, 4x4 and other posts, 4 flag poles, aluminum and other siding, lattice, interior/exterior doors, passage sets, aluminum storm windows, interior/exterior lighting, flourescent tubes & lighting, light guards, roofing, AeroVent snap vents, ceiling tiles, variety of insulation . . .
ALSO: antique oak mail cubby unit, exercise equipment, propane BBQ grills, Kelvinator refrig/freeze, televisions, stack chairs, file cabinets, drawered and cubbied organizers, wicker furniture, more, Much More!
Note: the above list is very, Very, VERY incomplete. If you have any kind of future building project, I advise you to inspect this auction!
Preview auction day at 9:00 AM or immediately in our photo gallery and get driving directions with the location maps.
TERMS: 10% Buyers Premium; payment with cash, New York State drawn check, VISA/MC. Auction authorized by company management.