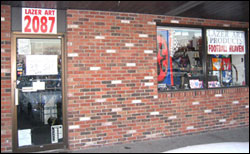 NASCAR, FOOTBALL, BASEBALL
BASKETBALL, HOCKEY
BANKRUPTCY LIQUIDATION
Very large quantity of SPORTS THEME CLOTHING: t-shirts, coats, sweat shirts, jerseys, warm-up shirts and apparel, golf shirts, three season jackets, shorts, more, Much More to include stadium blankets, towels, duffle bags, back packs, coffee mugs, key chains, pins, earrings, clocks, mirrors, beer steins, footballs, football helmets, pendants, water globes, collectable coins, ornaments, sport collector's stadiums, sports figure framed photos, lunch bags, key chains, posters, bumper stickers, water bottles, decals, pencils, pens, flags, magnets, folding chairs, license plate frames, seat cushions, trash cans, board games, bottle coolers, mouse pads, drinking glasses, shot glasses, bottle openers, baseball caps, die cast collection (helicopters, tractor trailers, cars), lanyards, figures, cigarette lighters, candles, costume jewelry, wrist watches, match box cars, display stands, more, Much More!
Also Selling STORE FIXTURES: variety of product display shelves, round racks, chrome racks, rotating peg racks, point of purchase racks, Royal cash register, three show cases, more, Much More!
Sale Times and Discounts
Thurs., Dec. 15 at 3:00 PM - 8:00 PM - 50% OFF
Fri., Dec. 16 at Noon - 8:00 PM - 60% OFF
Sat., Dec. 17 at 9:00 AM - 1:00 PM 70% OFF
Sat., Dec. 17 at 2:00 PM Cleanup Auction
Preview all merchandise sale days or immediately in our photo gallery and get driving directions with the location maps.
TERMS: payment with cash, VISA and MC only! All discounts taken at cash register. Liquidation authorized bt Trustee Michael Arnold.