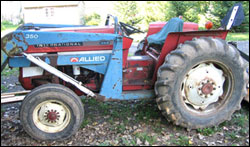 TRACTOR, ROLLING STOCK & SMALL EQUIPMENT
International 454 tractor, 3,925.9 registered hours, 3 point hitch, power take off; with Allied #350 loader 55" bucket; good rubber, overall condition - good.
1984 GMC Sierra 2500 pick-up truck modified to flat bed; VIN # 2GTGC24M6E1537840. This good truck has a V-8 gasoline powered engine, automatic transmission with 53,251 original registered odometer miles, with 6' Western snow plow, a very strong runner! Note that the dump box is not included.
1984 Chevrolet ¾ ton 4x4 pick-up with replaced steel deck flatbed; VIN # 2GCGK24M7E1219020. This vehicle has a 400 cubic inch, V-8 gasoline powered engine, automatic transmission with 117,557.4 registered odometer miles and a Western snow plow, condition - fair; also a very strong runner!
1994 Hudson 16' hardwood flatbed trailer, VIN 10HHSE169R1000010, double axle, 5 ton gross vehicle weight, drop down ramps, condition - very good.
ALSO . . . Bush Hog post hole digger with 9" auger, 3 point hitch mount; landscape rake, 5' width; box blade & scraper, 4' width;
YARD POWER EQUIPMENT
Gravely yard tractor, model 812, with 50" mid-mount rotary mower; DR stump grinder with 8hp Briggs & Straton engine; Troy Bilt chipper/shredder with 8hp Briggs & Straton engine with tow bar, plungers and extra knives; Troy-Bilt roto-tiller/edger with Honda engine and attachments; Troy-Bilt (Pony) roto tiller, rear tine; DR trimmer/mower with 5 hp Briggs & Straton engine, electric start and spare battery; King Kutter 50" rotary mower, 2 years old; Craftsman string trimmer, yard roller . . .
REFRIGERATION EQUIPMENT: American Thermaflo Corp. OZ saver refrigerant recovery machine, model 1986; Yellow Jacket vacuum pump, 6 CFM's, 2 stage; Revac portable nitrogen tank (for testing refrigeration equipment), Refrigerant - SUVA 62, approx. 20 lbs.; SUVA MP39, 30 lbs; R22, 30 lbs.; HP62 approx. 10 lbs, HOTSHOT approx. 15 lbs; 30 lb recovery tank (empty) . . .
SMALL HAND & POWER TOOLS: Homelite HL 2500 generator with Briggs & Straton engine, Delta 10" sliding compound saw on portable stand, Craftsman 10" table saw (still in the box), Craftsman 10" radial arm saw on stand with accessories, Greenlee 1304C portable hand saw, pancake-style air compressor, 1 hp, 4 gallon capacity with fittings; Milwaukee heavy duty right angle drill with case, Milwaukee electric hammer with case, Craftsman belt/disc sander, Sears portable right angle grinder with case, Milwaukee sawsall with case, Skill plunge and standard routers, Homelite trash pump with hoses, Craftsman 13" scroll saw, bench top; American bench top drill press, Craftsman 18" and Homelite 14" chain saws, Craftsman extension table, WEN knife sharpener, double wheel grinder, Remington propane torpedo heater, very nice group of small power hand tools, manual hand tools, good selection of lots of nuts, bolts, hardware; surveyors transit, good selection of manual yard & garden tools, vinyl lattice, saw horses, 6" bench vice, 8' cutters edge, miscellaneous tool boxes, large quantity rope, fuel cans (Guy said that he is going to drain all the fuel.), 6' step ladder, 32' wooden extension ladder, portable air tank, ratchet hoist . . .
HOUSEHOLD . . . Be sure to look in the photo gallery at the pictures that are a better representation of the household that will be sold. The following is a very partial list . . . KitchenAid refrigerator/freezer with lower freezer, entertainment center, 2 VCR's, Huffy Sante Fe 26" boys bicycle, Rubbermaid exterior 2 door shed, milk cans, additions expected!
Preview auction day at 9:00 AM or immediately in our photo gallery and get driving directions with the location maps.
TERMS: 10% Buyers Premium; payment with cash, New York State drawn check, VISA/MC. Auction authorized by Guy and Janice Kinney.