CONTRACTOR GRADE POWER TOOLS - ROTATING LASERS
SCAFFOLDING LADDERS
Saturday, May 21, 2005 at 10:00 AM
Interior Contractors; in the warehouse behind the King Cole Bean Co., 105 West Main Street, Avon, NY. On Routes 5 & 20 just west of the rotary. Watch for auction signs.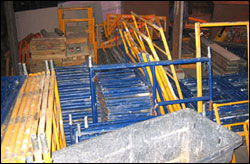 Downsizing the business. Ordered to sell at Public Auction. SCAFFOLDING: 200 +/- sections 5' X 5' scaffolding, ALSO; putt logs, wheels, adjustable foot jacks, safety rails, 7' and 10' braces, 7' and 10' aluminum picks, OSHA approved planking, 4" x 4" wood supports, dry wall stilts (shorties & talls), 20 pair Baker scaffold with accessories, ladder frame scaffold, LADDERS: extension ladders, lg. qt. 4', 6', 8' and 12' wood and fiberglass step ladders; GANG BOXES: 20 Knaak and other lift top and double door gang boxes, LOOK: Jet pallet jacks, 12+ drywall dollies/carts, debris carts; LASERS: 20 + Topcon rotating lasers, in cases, models RL-VH30 and RL-VH2G; High Quality Professional Contractor Grade POWER TOOLS: DeWalt, Hilti, Bosch, Metabo, Ramset, TrakFast, Milwaukee, Makita, Panasonic; Port-A-Bands, chop saws, Hilti DX351 guns, hammer drills, compound saws, viper guns, d" drills, TrakFast gun, Super Sazalls, screw guns, offset screw drivers, circular saws, cordless drills, shop vacís, drop cords, light stands, 4' levels, more! Limited job materials. Additions expected.
Note: This is the best & cleanest construction equipment that we have ever seen! ALL job sites were inside. Most of the equipment LOOKS NEW!
Removal: ONLY upon payment and for two hours after the conclusion of the auction.
Preview auction day at 9:00 AM or immediately in our photo gallery (34 photos) and get driving directions with the location maps.
TERMS: 10% Buyers Premium; payment with cash, New York State drawn check, VISA/MC. Auction authorized by company management.