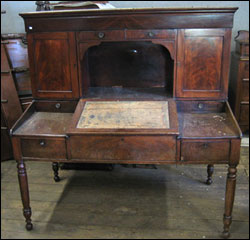 This is the combination of two estates; a rare opportunity from the prominent Mary Granger Estate and the Mary Louise Leene Dispersal.
ANTIQUE FURNITURE: pine cedar and other chests on casters, drop leaf table with NY leg, mahogany inlaid one drawer stand (some veneer damage), pine three drawer set-back dresser with two glove drawers over three drawers, all drawers mahogany faced; pine oval lamp table, two drawer drop leaf mahogany stand with reeded leg, two inlaid music box stands, mahogany one drawer drop leaf stand with tapered legs, three (painted) oak chairs, two walnut rose carved balloon back chairs with needle point seats, two walnut finger carved chairs with upholstered seats (one chair is broken), walnut swivel office chair with cane seat, mahogany chair with upholstered seat, cut-down; ladder back rush seat rocking chair, chestnut plank seat chair, walnut organ seat with upholstered lift top, sewing machine base table, three steamer trunks, one oak ribbed; walnut parlor table with marble top, walnut stand with brown marble top, marble top commode with back splash, two bridge lamps, two piece secretary desk with center lift top, mahogany veneer; chestnut commode with back splash and candle stands, walnut commode with side towel bars, mahogany Gov. Winthrop desk, Boston-style rocker, two walnut four post acanthus carved single beds, mahogany dresser with two drawers over two drawers with beveled swing mirror, large oval mirror, iron floor lamp with Dragon heads, approximately 5' tall; Ogee mirror, plank seat rocker, five Oriental-style rugs, oak youth chair/stroller with cane seat, Martha Washington sewing cabinet, 4 early plank seat chairs.
ART WORK: Richard Ware water color, winter scene; two Wallace Nutting, one marked "Honeymooner's Blooms" and the other marked "Ivy and Rose Cloister", water color, signed "Ann Gay Lord", water color (signed).
SMALLS, GLASS and CHINA: three Amari bowls, Oriental bowls and large Oriental plate (chip), porcelain Dragon, Oriental vase, Oriental figure on porcelain, Peacock vase, Oriental covered jars, Royal Doulton, European china Buffalo pottery bowl and pitcher, Dresden pitcher, four table lamps, two sad irons, mahogany tray with embroidery under glass, group assorted tinware and crockery, three Arch Merrill books, assorted Japanese porcelain, Limoge and flow blue plates, two (02) chamber pots, cut glass bowls, transfer ware covered dish, sterling holloware, sliver plate champaign stand, variety of wicker baskets,
High Quality HOUSEHOLD: Lane convertible love seat, 2 section contemporary sofa, kneehole desk, mahogany wine table, wicker rocker and side stands, king size mattress & box spring, glassware, china, Christmas decorations, Craftsman shop vac, yard cart, step ladders, more.
Note this is sure to be one of the better antique auctions of the season!
Preview auction day at 9:00 AM or immediately in our photo gallery and get driving directions with the location maps.
TERMS: 10% Buyers Premium; payment with cash, New York State drawn check, VISA/MC. Auction authorized by estate representatives.
THIS HOME IS FOR SALE. It is located in the preeminent section of the Village of Newark. And, is a custom build three bedroom ranch with interior amenities and custom finishing that make this home very, very unique and special. It has an exceptionally efficient and functional kitchen, formal dining room, large livingroom with fireplace and a Florida room that will brighten any Western New York cloudy day! The master bedroom has its own patio and full bathroom. There is a common full bathroom for the other two bedrooms. The half bath is located near the front entrance, convenient to the formal living areas of the home and to the basement family or recreation room. This full basement has a walk-out and laundry/utility room. There is a very large two car attached garage. The backyard is private and enjoys mature shrubs and trees. This home is offered at the modest price of $ 174,000. To arrange for a private tour of this special property, contact Terry Urban at 315-331-1111 or 315-331-0007. This is your invitation to live in a charming, peaceful rural community with a strong family base, a very good school district, local shopping . . . and . . . it is a comfortable, easy commute in any direction!
OPEN HOUSE: Terry will be holding an Open House on auction day from 10:00 AM until Noon. Mortgage Broker Michael Rooney from Wells Fargo Bank will also be at the property for consideration of your financing needs. Take a moment to tour this home and our wonderful community. Also, consult with Terry about your personal and special real estate needs.