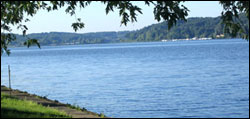 REFRIGERATION: exterior walk in cooler, True single door display cooler, self contained; Glenco Guardian double door pass-thru cooler, 2 Kold-Draft ice machines, Beverage Air 3 door keg cooler, Kold-Draft 4 door keg cooler with four head dispensing unit, Norris milk cooler, exterior cooling and ventilation, condensers and compressors, wooden walk in cooler doors and hardware . . .
KITCHEN EQUIPMENT: self contained steam jacketed kettle, drawer type broiler with upper finish oven, two Toast Master floor mount deep fryers, Toast Master four drawer warmer, Hobart commercial microwave, Cecilware model FE-200 double urn coffee brewer, Bunn pour over coffee machines, stainless steel single basin sink, Kitchen aide mixer, two 6' by 24" hardwood prep tables, variety of stainless steel wall mount and free standing shelving, fatigue mats, ceiling mounted pot rack, several mobile bakerís racks, sheet trays, variety of steam table inserts, excellent selection and variety of Syracuse china, china elevators . . .
DISH MACHINE: dish washing area (description counter-clockwise) soiled dish table, upper glass rack to pre rinse, to Hobart double tray straight pass through high temp dish machine to clean dish area with integral double basin pot sink with Hatco booster heater . . .
DINING ROOM: 32 duce and four top single pedestal tables, 150 upholstered seat and back stack chairs, bench seating, youth chairs, cocktail tables, several leaf and floral pattern chandeliers, waitress stations, tray stands, variety of composition service trays, stainless steel flatware, large quantity glassware and bar glassware, mobile coat rack . . .
OUTDOOR DINING: large quantity patio furniture, tables, chairs, etc., advertising umbrellas, ice cream parlor chairs and tables, ten +/- picnic tables, lawn and exterior decorative accessories . . .
OUTDOOR & MAINTENANCE EQUIPMENT: Burtus power yard roller, model AR1, serial number B-1318, Briggs & Stratton engine; Locke walk behind reel three section gang mower, two Lawn Boy rotary mowers, Black & Decker 18" electric trim mower, Craftsman and other string trimmers, small mobile crop/tree sprayer, fuel cans, 24" chain saw, manual yard and garden tools, wheel barrow, Meyers submersible and several other water pumps, garden hose, Craftsman 10" radial arm saw, acetylene welding kit with tanks, gauges, hose and cart; two sections scaffold, aluminum extension ladder, ALSO: Bruner Softy 1200-ES water treatment system, AO Smith hot water heater, AO Smith Burkay hot water boiler, Whirlpool dehumidifier, bathroom fixtures, serval banks lockers, window mount air conditioner, athletic and sports equipment (snow boards, snow skis, water skis, Water Devil pedal raft), runner sleds, large pet carrier, fire wood, more!
Note: this auction notes the end of traditional 1950's-style upscale dining. Attend for nostalgia. Attend to look at the bay. But, do attend!
Removal: auction day for two hours after the conclusion of the auction. Wednesday, October 5th from 9:00 AM until 3:00 PM.
Preview auction day at 9:00 AM or with additional descriptive detail, photo gallery and location maps.
TERMS: 10% Buyers Premium; payment with cash, New York State drawn check, VISA/MC. Auction authorized by estate representatives.