Annual Nursery Stock Reduction
FINALLY...Itís Time to Plant!
Saturday, May 7, 2005 at 10:00 AM
Edgewood Nursery, 620 Walworth Penfield Road (Route 441), Macedon, NY...on the curve, near the intersection of West Walworth Road. Watch for Reynolds Auction signs.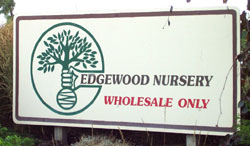 Annual NURSERY STOCK REDUCTION AUCTION...ordered by this areas premier wholesale grower to sell at Public Auction Quality new nursery stock that is excess to need...all new product...NURSERY STOCK: large quantity of evergreen, flowering and shade trees. Flowering and evergreen shrubs to include flowering cherries, Rhododendron, Azalea, Japanese Maples, Yews, Junipers, Spruce, Pines...Large Quantity of additions expected! After this especially hard winter, this years Spring planting will be quite welcome! Start the season with fresh NEW trees, shrubs and annuals. Attend this auction of high quality, excess stock from the areas finest wholesale distributor. PREVIEW at 9:00 AM auction day or immediately in the Photo Gallery and get directions with the Location Maps. REMOVAL: come prepared! You MUST remove all of your purchases on auction day! Loading assistance on to trucks. Not responsible for loading into automobiles! TERMS: 10% Buyers Premium; payment with cash, check, VISA/MC. Auction authorized by Thomas Keenan.
John T. Reynolds, CAI
Newark, NY 14513-0508
Telephone: 315-331-8815
Fax: 315-331-2054