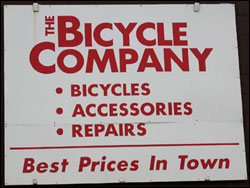 BICYCLE PARTS & HARDWARE: large quantity rims, pedal arms, de-railers and parts, sprockets, chain, Shimano shifters, reflectors, brakes, axles, springs, clips, bearings, shifter parts, cable, brakes and pads, frames, front and seat posts, headsets, chain rings, large Quantity spokes and rims, large quantity and variety of Continental and Action tires - gum wall, black wall, various treads and sizes, also tubes!
REPAIR & DISPLAY EQUIPMENT: 5+ sections wall mount bike display (8 & 12 bike), 4 floor mount/free standing bike displays, individual bike "half moon" stands, 4 Park Tool bike repair stands, ToolCompany frame staighteners, Hallowell 12 drawer and Mavic 6 drawer full suspension parts organizers; several multi-drawer parts cabinets, acro bins, fitting chairs, hand tools, work bench, general hardware . . .
RETAIL BIKE ITEMS: 4 heavy duty Hollywood and Saris vehicle mount bike racks, safety helmets, cushion bike seats, water bottles, DYNO pegs, Expedition racks, "White Lighting" products, Burley Walk-n-roll kits, baskets, individual bike stands . . .
STORE FIXTURES: neon "OPEN" sign, "Promo" back lighted and standard product signs, slat wall and accessories, track lights with track, point of purchase racks, chrome retail clothing racking, Royal alpha 580 electronic one drawer cash register, multi-departmental with customer read, Hypercom T7P-T credit card machine, Axiohm receipt printer, blind cash drawer, CAM Pentium base computer with CPU, keyboard and monitor; HP LaserJet 1000 series printer, Sharp UX-P100 plain paper fax machine, corrugated boxes (flat), upright Hoover vacuums, cleaning supplies, Sherwood stereo system . . .
Also Selling, at this location, from a near by store . . .
TAILOR EQUIPMENT: 3 professional/commercial sewing machines, 1 Lewis, 2 Singer; SURGER, body forms, Reimers steam iron, MORE!
Note: Excellent New Retail Inventory!
Removal: only on auction day, after full payment, for two hours at the conclusion of the auction.
Preview auction day at 9:00 AM or immediately in our photo gallery and get driving directions with the location maps.
TERMS: 10% Buyers Premium; payment with cash, New York State drawn check, VISA/MC. Auction authorized by landlord.