STORAGE CONTAINERS
Tuesday, May 24 at 10:00 AM
Bekins Worldwide Movers, 400 Mason Road, Fairport, NY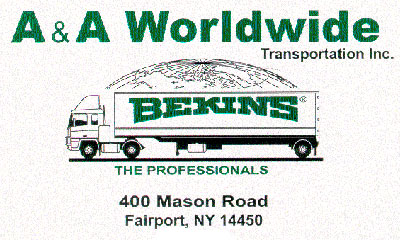 Delinquent storage fees have caused the AUCTION of a number of container units sold piecemeal and bulk . . . often high quality household furniture & furnishings, electronic equipment, sporting goods, etc. The following tenants should take notice of deficiency Melinda Davis, Steve Ewing, Margaret Gustat, Gwen Martain, Jay Mattice, Dennis Moriarity, Michael Sullivan, Glen Turner, Jean Wright. Preview this auction at 9:30 AM and get driving directions with the location maps. . . . and, this auction will be conducted inside and outside. Dress and prepare for weather!
PRODUCT NOTE . . . traditionally the contents of controlled environment, warehouse stored, boxed, containers are of higher, much higher quality than items found in mini-storage units. I recommend that YOU preview this auction!
TERMS: strictly CASH! 10% Buyers Premium. All property subject to redemption. All items MUST be removed at the conclusion of the auction.
John T. Reynolds, CAI
Newark, NY 14513-0508
Telephone: 315-331-8815
Fax: 315-331-2054