Seized from Bankrupt Estates! Ordered to sell at Public Auction!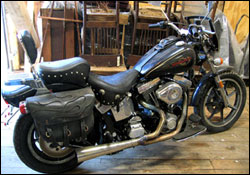 1997 Harley Davidson, Heritage soft-tail motorcycle; VIN NY56063. This motorcycle has a 1350 cc engine, belt driven five speed standard transmission, with 13,897.6 registered odometer miles. It is balck with a Mustang black leather seat. Additionally, this unit enjoys hard shell black leather saddle bags, leather tank bag, windshield. Note that this vehicle has a New York State issued title. This condition is good.
2002 Yamaha Star, model XVS65AP-2 motorcycle; VIN JYAVM01E92A041613. This vehicle has a a standard transmission, shaft drive with 16,565 registered odometer miles. The exterior color is midnight blue and black. After market additions include leather rear straddle-type saddle bags, handlebar mounted leather pouch and a windshield. The, very apparent, condition is very good!
2 - 2001 Yamaha Wave Runner XL800 jet skies; HULL # YAMA3079J001 & YQMQ3979F101. Stored and transported on a Karavan single axle, double cradle trailer; VIN 5KTWS14142F072326. Operational hours - minimal!!! Condition Very Good to Excellent!
1996 Monterey Montura 235 - 23' runabout boat; HULL # RGFW0215K596. This vessel has a MerCruiser Alpha 1 (SN 0F661078) inboard/outboard engine. The hull is green on a cream field, standard, cuddie cabin interior. This boat is stored and transported on a 1996 YachtClub, model R2242T, VIN 4H1002323V0200820 double axle trailer.
1989 Wellcraft 16' fiberglass runabout boat, HULL # WELT6685H889. This vessel is powered by a US Marine 85 hp outboard engine that has been winterized. Standard interior. This baot is stored and transported on a 1989 EZ/LO single axle trailer. The condition of this vessel (always stored inside) is good to very good!
HobieCat 16' catamaran sail boat, circa 1981, hull number unknown. White exterior with full rigging. The hull and canvas has mold. This boat is housed and transported on a single axle transport trailer, Trail-R-Craft (mfg.). The apparent condition of this boat is fair to good.
1981 23' Sea Ray inboard/outboard cruiser, stored and transported on a 1984 EZ/LO trailer
2000 Dodge Dakota Quad Cab SLT pick-up truck; VIN 1B7GL2AX2YS718288. This truck has a V-6 gasoline powered engine, automatic transmission with 47,157 registered odometer miles. It has a dark green exterior with a dark gray cloth interior. Driving amenities include air conditioning, AM/FM/cassette stereo sound system, power windows, locks and mirrors. Additional items of note is that it has a color matched LEER bed cap and a towing package. The condition of this vehicle is, obviously, good!
2001 Ford Windstar Sport mini-van, three seat - seven passenger capacity; VIN 2FMZA57481BB00871. This vehicle has a 3.8 liter, V-6 gasoline powered engine, automatic transmission with 88,597.6 registered odometer miles. It has white exterior with a gray cloth interior. Driving and passenger amenities include air conditioning, AM/FM/cassette stereo, tilt wheel, cruise control, delay wipers, power windows, locks and mirrors, with keyless coded entry. The vehicle has left and right rear passenger doors. There are no after market additions. The condition of this mini-van id good to very good!
1998 Dodge RAM 250 utility van; VIN 2B7JB21Y6WK148417. This truck has a 5.2 liter engine, automatic transmission with over 100,000 miles. The factory installed package includes air conditioning, AM/FM radio, tilt wheel, delay wipers. After market additions include a passenger guard cage and an Acro-bin organizer rack. Condition - fair to good.
1996 Ford Aerostar XLT 7 passenger mini-van; VIN 1FMDA31X8TZC04755. This van has auto. tran., 198,662 miles. Amenities include air conditioning, AM/FM/cassette, power locks, windows, mirrors and cruise. Condition - good.
1991 Dodge 250 extended utility van; VIN 2B7HB21X7MK437762. Automatic transmission, 153,532 miles with cab guard, parts rack and cabinet. Condition - fair.
1991 Saab 900 Turbo convertible; VIN YS3AL76L7M7010553. This auto has a 2.0 liter engine, auto. trans., 141,128 registered miles; black exterior and a tan leather interior. Driving amenities are air conditioning, AM/FM/cassette stereo, cruise, power seats, windows and driver's seat. (no photo)
Also selling a large quantity of Professional Grade CONTRACTOR TOOLS: SkyJack scissor lift, John Deere model 212 yard tractor with mid-mount rotary mower, Ridgid 40A pipe tripod vises, climbing hand truck, 40,000 BTU Reddy heater, Milwaukee chop saw, Delta miter saw, Porter-Cable pancake air compressor, 4 HP, electric; portable air tank, General Mini-Rooter, electric 50'; General Maxi-Rooter, 125' cable, Sid Harvey model 512 vacuum, 6' and 8' fiberglass step ladders, 4 six ton jack stands, various shovels and manual tools, two gallon shop vacuum, Diehard trickle battery charger, Ridgid soil pipe cutter, Ridgid 45 steel pipe cutter, bolt cutters, 50' come-a-along, 2¼ ton floor jack, 3 aluminum step ladders, torch set, Milwaukee sawzalls, Milwaukee rotary hammer, Milwaukee hole hog drill, Milwaukee heat gun, Makita 5" grinder, DeWalt ½" hammer drill, Makita cordless drill, DeWalt cordless drill, Makita d" right angle drill, Makita jig saw, Dovgan transformer tester, assorted bits ½" thru 2", drill index 15+ bits, hole saw kit ¾" thru 2½", 2 - 100' electric cords, 25' and 50' drop lights, 25' & 50' extension cords, DeWalt flash light kit, various pipe wrenches, plyers, hammers, hand saws, socket sets d" thru ½" drive, six cubic feet wheel barrel, Ridgid 700 Power Ponies threading, Ridgid 318 oilers, Milwaukee HD ½" drills, Ridgid steel pipe cutter, various Ridgid dies - 12R, 2-½", 2-¾", 3-1", 1-1¼", 2-1½", 1-2"; Ridgid 12R ratchet, SKIL circular saw, Milwaukee bit kit, Milwaukee angle drill, Rigid pipe cutter, 3½" self feed bit, GREENLEE 50' fish tape, toilet auger, utility trailer (no paperwork!), GREEN LEE job box, DREMEL electric engraver, impact tool set, 3 electric meters, propane torch head, soldering tool, Rigid 14", 18" & 24" aluminum pipe wrenches, 2 Rigid 12" crescent wrenches, Kentic water RAM, Rigid drill auger, tile cutter TC180A, work light with stand, Rigid brand wet-dry vac, 2-square plastic shovels, Remington 480 power driver, Dewalt cordless screw gun, Senco air nailer, 2-4' levels, Hitachi drywall screw gun, Dewalt drywall screw gun, Passload impulse finish nailer, Ryobi 7¼" skill saw, box mudder with 12" and 10" blades, corner mudder with pump, caulking guns, Hitachi hammer drill, Craftsman cordless screw gun, Delta JOS site gang box, safety harnesses, tool punches, Black & Decker drywall screw gun, 100' extension cord, Baker scaffolds, Makita chop saw, more!
PROFESSIONAL DJ EQUIPMENT: Numark dual cd player, model CDN88; Pioneer professional DJ mixer, model DJM600; DBX speaker control system, drive rack-PA EQ; 2 dual JBL 15" subwoofers, model MP255S; 2 Yamaha two-way speakers, model S115-4; 2 QSC power amplifiers, model RMX185HD; 2 Yamaha dual 15" two way speakers, club series; QSC power amplifier, model RMX2450; Crown power amplifier, model CE4000; Yamaha powered monitor, model MSP3; DJ Sony remix headphones, model MDRV500DJ; Audio Technica wireless microphone, Audio Technica dynamic microphone, variety of cables and wire, American DJ four light system, model Pocket-Scan; Martin Atomic DMX 3,000 watt strobe light, American DJ fog machines, model FOGSTORM 1700; Boxlight multimedia projector, model SP-9T. (Sorry . . . no photographs of this equipment. It was repossessed when it was only three months old!)
Removal: AFTER FULL PAYMENT.
Preview auction day at 9:00 AM or immediately in the photo gallery and get driving directions with our location maps.
TERMS: 10% Buyers Premium; payment with cash, New York State drawn check, VISA/MC. Auction authorized by company management.