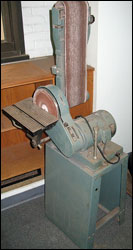 TOOLS AND EQUIPMENT: Lincoln 6" belt and 9" disc sander, Lincoln DC250 MK mobile welder, Lincoln AC/DC arc welder, Goodway Ream-A-Matic, serial number 11473; Wissota model E-7W grinder, bench vise, machinist vise, two snowblowers, shop vac 10 gallon contractor unit, 55 gallon mobile shop vac, Hako minuteman commercial vac, four Dayton commercial pedestal & mobile fans, mobile work cabinet, composite mobile cart, Makita combination cordless drill, saw & flashlight kit; Black & Decker Industrial ˝"drill, cordless and electric drills, UltraHeat hot air gun, open & box end wrenches, clamps, pullers, work lights, hardware, extension cords, 4', 6' & 8' wooden step ladders, air conditioners, nail guns, fire extinguishers, MORE!
OFFICE FURNISHINGS: Formica & wood top office desks, large oak desk, computer desks, oak and other credenzas, Formica top and wood tables, large quantity upholstered office chairs, sofas & stools; two & four drawer metal filing cabinets, large quantity four drawer lateral files, 52" by 42" flat blueprint files, sliding file cabinets, sliding glass front cabinets, card catalog cabinets, single & double door metal storage cabinets, bookcases, metal lockers, podiums, 48" round cherry finish table, dry erase boards, wooden frame cork board, chalk boards, acoustical panels, metal shelving, Formica appliance carts, rotating literature display racks, chair mats, large framed map of Rochester, light bulbs, Hydro Fitness exercise machine, MUCH MORE!
APPLIANCES: two G.E. Nautilus dish washers, enamel top gas stove, sink, oven, refrigerator combination unit with upper cupboard; GE refrigerator/freezer, Coldspot upright freezer, Baxter dough press, model BAXCRO-36-3, serial number BAX1223, 3 phase 208/220 volt operation.
ELECTRONIC EQUIPMENT: Graphtec Cutting Pro FC3100-120 plotter, Sharp SF-2540 copier, Aticio 1027 copier, Imagistics Smart Image Plus copier, Minolta CS Pro copier, Sanyo & Mitsubishi televisions, JVC & Panasonic VCR's, Hitachi Computacam 231 camera, Micro Processor timer, large quantity photographic equipment, Panasonic television monitor, AV projectors, mobile cart, large quantity computer keyboards and monitors, MORE!
Note: Cash and Visa/MC accepted only. NO CHECKS! Josh Lofton School entrance and parking off Broad Street - under highway over pass. Trucks note - maximum clearance is 7' 7". Loading dock available. Come Prepared! Bring hand trucks & dollies for Immediate REMOVAL!
FINAL REMOVAL: until 4:00 PM on auction day and from 10:00 AM - 12:00 PM only on Friday, January 29th. If YOU leave purchases for Friday removal, YOU do so at YOUR risk!
Preview auction day at 9:00 AM or now in the photo gallery and get driving directions with our location maps. TERMS: payment via cash, New York State drawn check, VISA/MC. Auction authorized by City of Rochester.