Police Cruisers - Agency Vehicles - Light Trucks - Trailers
CITY OF ROCHESTER
Saturday, November 17, 2007 at 9:00 AM
Preview at 8:00 AM
At the City Surplus Yard, 210 Colfax St., Rochester, NY. Take Route 390 North, exit at Lexington; 2nd light, Colfax St. turn right. Auction signs.
Terms - Conditions - Itemized Lot Sheet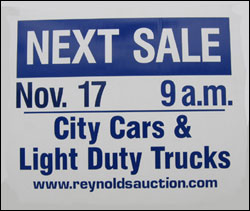 Selling 30 surplus (titled) vehicles in this auction.
10 POLICE CRUISERS: 5 - 2003 Chevrolet Impalas, 1 - 2003 Chevrolet Impala (fire damaged), 2002 Chevrolet Impala, 2 - 2003 Ford Crown Victorias, 1998 Ford Crown Victoria . . .
TRUCKS, SUV's & TRAILER: 2003 Chevrolet Silverado pick-up truck (front end damage), 2001 Chevrolet Blazer LS four wheel drive SUV, 2000 Ford Explorer four wheel drive SUV, 1999 Ford F-150 pick-up truck, 1998 Ford Ranger extended cab pick-up truck, 1997 Ford F-350 XL pick-up truck with Power Stroke Diesel, crew cab, dual rear wheels, bed cap and towing package; 1996 Ford F-250 XL pick-up truck with crew cab and Reading utility box, 1996 Ford F-150 pick-up truck, 1995 Ford F-250 XL pick-up truck, 1986 Chevrolet utility van, 1973 GMC Custom 2500 four wheel drive four door suburban, Mid-Atlantic single axle flatbed trailer with 6˝' by 12' pressure treated wood deck and drop down gate . . .
AGENCY VEHICLES: 2003 Honda Civic GX four door sedan, alternative fuel vehicle, powered by natural gas; 2 - 2003 Ford Crown Victoria four door sedans, 2000 Ford Taurus LX four door sedan, 1999 Ford Taurus LX four door sedan, 1998 Ford Taurus LX four door sedan, 2 - 1996 Chevrolet Corsica four door sedans, 1995 Oldsmobile Cutlass Ciera SL four door sedan . . .
ALSO: Air-Flo (mfg.), stainless steel pick-up mount material spreader, 1995 Steiner four wheel drive articulating yard and garden tractor, model 420; 3 Toro Ground Master 325-D mowers (one for parts), several Little Wonder "high output" gas operated power blowers, Cushman mower (needs front mower deck), more!
The Police Cruisers have heavy duty police packages, automatic transmissions, air conditioning, power windows, doors, etc. The Agency Vehicles all generally have automatic transmission, air conditioning and four doors. Additions expected.
Removal: at the conclusion of the auction until Noon and on Monday, November 19 between 9:00 AM and 11:00 AM.
PREVIEW auction day at 8:00 AM or immediately in the extensive photo gallery and get directions with the location maps.
BRIEF TERMS: cash, personal or business check drawn on a New York State bank with acceptable identification. Immediate vehicle possession. Title transfer with cash payment, guaranteed funds or upon check clearance. If paid by NYS drawn check, your title will be mailed to you no later than Monday, December 3. . . NO Exceptions!