AUTOS - Light TRUCKS and Small Equipment for the
CITY OF ROCHESTER
Saturday, October 21, 2006 at 9:00 AM
Preview at 8:00 AM
At the City Surplus Yard, 210 Colfax St., Rochester, NY. Take Route 390 North, exit at Lexington; 2nd light, Colfax St. turn right. Auction signs.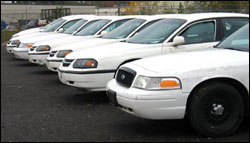 Ordered by the Director of Purchasing to sell the following Surplus Vehicles 25 POLICE CRUISERS & AGENCY VEHICLES: 8 - 2002 Chevrolet Impalas, 2005 Chevrolet Impala (wreck title), 2003 Chevrolet Impala (wreck title), 2001 & 2002 Ford Crown Victorias, 1999 Ford Crown Victoria, 3 - 1997 Ford Crown Victoria, 2002 Dodge Intrepid, 2000 Ford Taurus, 4 - 1998 Ford Taurus, 2 - 1997 Ford Taurus. The Police Cruisers have heavy duty police packages, automatic transmissions, air conditioning, power windows, doors, etc. The Agency Vehicles all generally have automatic transmission, air conditioning and four doors.
TRUCKS & VANS: 1996 Ford F-250 pick-up truck, 1995 Ford XL-250 crew cab pick-up truck, 1995 Ford XL-250 pick-up truck (no title), 1997 Ford E-150 utility van, 1991 Ford Econoline van, 1998 Ford Windstar mini-van, 2001 Dodge van (no title).Additions expected.
Note . . . On Wednesday, October 11, I had the opportunity to photograph and inspect this years vehicle offering. Surely, this auction is smaller than normal but the Police Cruisers appear to be in excellent shape, better than in past years and almost all of the agency vehicles look to be in superb condition. We will post an Adobe printable lot sheet with individual vehicle data by Thursday, October 19
Removal: at the conclusion of the auction and on Monday, October 23rd.
PREVIEW auction day at 8:00 AM or immediately in the extensive photo gallery and get directions with the location maps.
BRIEF TERMS: cash, personal or business check drawn on a New York State bank with acceptable identification. Immediate vehicle possession. Title transfer with cash payment, guaranteed funds or upon check clearance. If paid by NYS drawn check, your title will be mailed to you no later than Monday, November 05 . . . NO Exceptions!